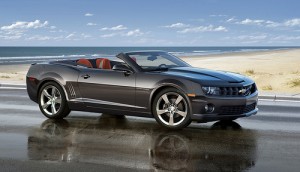 Photo credit Flickr/Automotive Rhythms
We have a lot of different options for the canvas material that we use for canvas replacement convertible tops. Regardless of which canvas top is original equipment for your car, you can choose any of the following canvas products for your replacement canvas convertible top. This is a common industry practice, and will not sacrifice the quality or the look of your top when installed on your convertible.
Stayfast Canvas
This is a special canvas fabric designed specifically for convertible tops. It looks something like tent material, and is a three-ply composite material with an acrylic weave outer layer, a rubber inner layer, and a cotton drill inner lining.
Stayfast canvas is original equipment for the Chevrolet Camaro, Dodge Viper, Plymouth Prowler, Pontiac Firebird, Alfa Romeo Spider, Lotus Elite, Rover MGF, Peugeot 306, RR Bentley Azure, Toyota Celica, and Mazda Miata.
Stayfast canvas is also often used as a replacement material for European cars, as a less-expensive alternative to the original German or Sonnendeck canvas.
Sonnendeck, a.k.a. Twillfast II Canvas
Sonnendeck is similar to Stayfast canvas, but with a textured backing in either black or tan.
Sonnendeck is original equipment on the Aston Martin DB7, Audi Cabriolet, Jaguar XK8, BMW Z3 Roadster, Chevy Corvette from 1998 on, BMW 3 Series Cabriolet (E36), Opel Astra, and the VW Golf III.
Twillfast, a.k.a. Twillfast JX
This is the Sonnedeck/Twillfast II canvas, but with a gray backing. It is original equipment on the Chrysler Sebring JXI.
Original German Canvas, a.k.a. Sonnenland or A5
This is the original German canvas, made with a twill weave outer fabric, a rubber inner layer, and a dobby weave lining fabric. It is original equipment on the VW new Beetle Convertible, Mercedes, Porsche, Saab 9-3, and Volvo C-70.