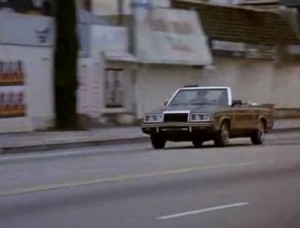 Surely the most famous Chrysler LeBaron convertible has to be the modified 1983 Town & Country soft top which George Costanza purchased under the mistaken belief that it once belonged to Jon Voight.
In the sixth season Seinfeld episode "The Mom & Pop Store," Costanza heads out to buy a 1989 Volvo, but the salesman talks him into the convertible LeBaron instead, claiming that it had previously been owned by Jon Voight.
(Spoiler alert: the car's former owner was not the actor Jon Voight, but some random man named John (with an H) Voight. )
This is widely regarded as one of the better Seinfeld episodes. At the end it includes an homage to "Midnight Cowboy," a movie which starred… Jon Voight.
Here's a bit of trivia for you hard-core Seinfeld fans: according to Wikipedia, this episode was inspired by real-life events. Apparently the script's writer, Tom Gammill, once purchased a car because the dealer lied to him and claimed it had been owned by Jon Voight. To bring things full circle, that very car was used as "John Voight's car" in the Seinfeld episode.
If you have a Chrysler LeBaron convertible top that needs replacing, whether or not your LeBaron was previously owned by Jon Voight, check out our selection. We have a wide range of colors and fabrics available for replacement LeBaron soft tops.