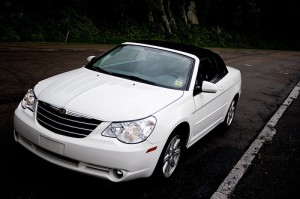 Photo credit: Flickr/H4NUM4N
Q&A: What's the difference between pinpoint and sailcloth vinyl?
Both pinpoint vinyl and sailcloth vinyl are commonly used in replacement convertible car tops. Both kinds look like grained plastic, but pinpoint vinyl has a pattern of small dimples, whereas sailcloth vinyl has a broader texture of bumps that look a little more like woven fabric.
Pinpoint vinyl was commonly used for convertible car tops in the 1960s, 1970s, and 1980s. It's a two-ply composite which has an outer layer of PVC plastic, and an inner layer of dyed 100% cotton sateen.
Sailcloth vinyl is original equipment on the Ford Mustang convertible and Chrysler Sebring convertible. It also has an outer layer of PVC plastic, but it has an inner layer of gray blended poly/cotton drill fabric.
If your car originally had a vinyl top (either pinpoint vinyl or sailcloth vinyl), you can replace it with either another vinyl top, or with a canvas top.  Both canvas and vinyl tops wear out at about the same rate. It is common practice to replace tops made of one material with tops made of another material. The quality and the looks will remain top-notch, as with any of our replacement convertible tops!