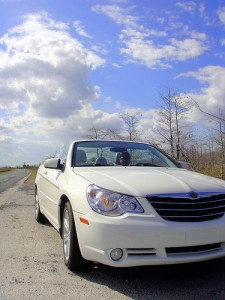 Image courtesy Flickr/mattk1979
When Chrysler rolled out the Chrysler Sebring convertible top model, they created a juggernaut. This affordable sedan was one of the few soft top options for car buyers who wanted the fun of a convertible paired with the practicality of a mid-size sedan. And even though the Chrysler Sebring convertible was nixed by Chrysler in 2010, Chrysler Sebring soft top fans have kept the love alive.
The biggest fan organization for the Chrysler Sebring convertible and Chrysler 200 convertible is the aptly-named Chrysler Sebring/200 Convertible Club. The club's main website is a forum with hundreds of active members, and topics that range from regional meet-ups to repair tips broken down by part type. If you have a question about your Chrysler Sebring convertible's engine, transmission, HVAC, exterior, technical specs, or any other aspect of Chrysler Sebring soft top ownership, the club has you covered.
Chrysler may have abandoned the Sebring convertible, but we've still got your back. If you need a replacement Chrysler Sebring convertible top, we offer a variety of styles and fabrics for all three Sebring generations.