One of the most common questions we hear from our customers is whether or not they can re-use their existing window when they install a new convertible top.  The short answer is "it depends".
Since reusing your convertible top window can be a complicated answer, first let's talk about the basic types of convertible tops, so we can get some of you to a quick answer:
One Piece Tops

>> This is where the entire top, including the a new window section is one continuous piece.  These type of tops will generally be easy to spot because you won't have any overlapping pieces between sections and no zippers.  If you have a one piece top, then

you should not reuse your old window

.




Two Piece Tops

>> This is where the top roof section of the convertible top is separate from the window section. These two sections are installed separately onto your convertible top frame and where they meet you will see an overlapping seam.  When installed, two piece tops will often look like they are one piece because of that overlapping seam. Sometimes two piece tops have zippers so that you can remove or lower the window curtain. If you have a two piece convertible top, read below because

you may be able to reuse your old window

.




Top with a Blank Window Curtain

>> This is a one piece top that does not come with a window installed.  Instead, the window portion will only be material and your installer would cut out that material and then reuse your old window and place it into the new top.  If you have this type of convertible top, then

you have options and can choose to reuse your old window

.
Now let's go through the long answer to these questions for each of the types of convertible tops above.
One Piece Tops
When learning about your options when replacing a convertible top, you may have heard from an inexperienced person that it is possible to sew in an existing window into a new top.  Although this is technically possible, it really shouldn't be done.  Allow us to explain.  

First, and most importantly, sewing an older window into brand new convertible topping material, and ensuring that you will create a waterproof, durable seam which can withstand consistent use and the material stresses involved is virtually impossible.  The manufacturing process for convertible tops ensures that seams are durable and will last a long time. But simply trying to sew a window section into a new convertible top would be a waste of money; the seams simply won't hold up.
Secondly, if you have a one piece convertible top, then the replacement convertible top that you buy will already have a window in it.  Why would you cut out a new window and try to sew your old window in place of the new one? You wouldn't, of course.
Here is an image of what a one piece top will look like: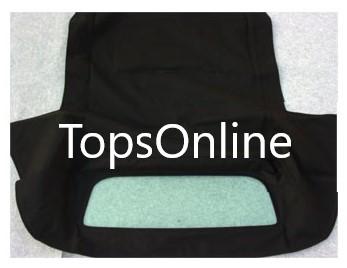 Two Piece Tops
If you've determined that your convertible top is indeed two complete pieces that can separate -- meaning that your top has a top section and a separate window section (also known as the window curtain) -- then you'll want to inspect your window curtain section to see if your window can be reused.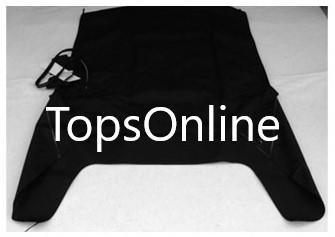 and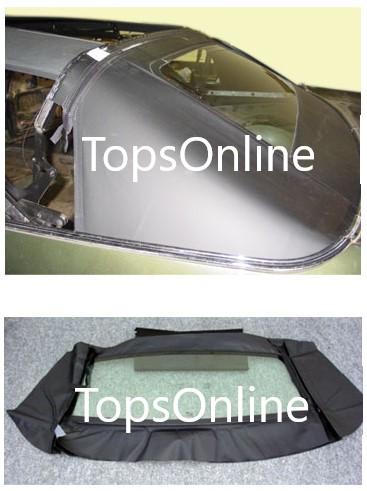 If the window itself is securely fitted to the material surrounding the window and if the material is not noticeably faded or worn, then you can reuse your window section.  When purchasing a new convertible top you'll see an option to just purchase the front top section only. This will allow you to keep your existing window curtain section and add it to your new front top portion.  Overall this can save you a hundred or more dollars and is a great option for instances where the convertible top itself is relatively new or in like new condition but maybe the roof area was punctured.
If the window is separating from the material around it, then you'll need to replace the window curtain.  There is not a reliable and long lasting way to reseal a window back to the material. The good news is that the cost of including the window curtain area in your purchase is not that much and when purchasing from TopsOnline your new window will come with a window bond warranty that covers issues with the window bond for years to come.
Two piece tops are popular for American cars through the late 1990's.  A few other makes, including Toyota and SAAB also came with two piece tops.
Tops with a Blank Curtain (Windows Not Pre-Installed)
Some manufacturers offered convertibles with window glass that are made to be re-used when the convertible top is replaced.  This is common with some European makes, like Jaguar and Volkswagen and even some American cars from the '40's and '50's like Dodge Coronet, Ford Super Deluxe and Sportsman and the Plymouth Belvedere, to name a few.
For models that intend for you to reuse your window, new convertible tops will be solid material with no window at all.  This is called a "blank curtain" since the window area will be blank, or without glass. The area where the window should be will be solid double-thick material and your upholstery repair shop will need to remove the glass from your old top and install it into this new top.
Most convertibles in this category also offer an option to buy a new top with a new window (which could be plastic or glass).  Sometimes complete tops with windows included are just a little bit more than those with a blank curtain (no window pre-installed).  Sometimes tops with a new window are actually cheaper than those with a blank curtain. (And you don't have as much labor required for your installation, which will save you more money.).  Check out tops available for your convertible to weigh your options.  
Don't Let Your Window Obscure Your View
While that heading may be a little tongue-and-cheek, the point is that new convertible tops are often more affordable than you think.  If you end up in a category where you can't reuse your window, then don't despair. The cost differences between saving your window and replacing it are not far apart and if you need to cut your project cost, check out our article on shopping for a new top on a budget to see how you can save in other ways.
The other good news is that TopsOnline makes shopping for a new convertible top as easy as possible.  For each convertible, you will clearly see all of your options available, with no hidden choices. So if your model comes with an option to reuse your glass, you will clearly see that on our shopping page for that model.  Check out what new convertible top options are available for your vehicle now and let us know if you have any questions.