Have a problem with the carpeting in your Mercedes? We now offer replacement Mercedes Benz carpeting kits: replacement carpet pieces which have been hand-crafted for body style 107 Mercedes Benz models:
 280SL, 350SL, 450SL (chassis R107) 1972-1980, original German loop pile and original German velour
 280SL, 380SL, 500SL (chassis R107) 1980-1985, original German velour
300SL, 420SL, 500SL, 560SL (chassis R107) 1985-1989, original German velour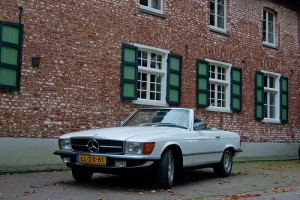 Photo credit: Flickr/michieledijcks
These carpet kits are made to factory specifications and workmanship, and are made with the original Mercedes Benz material. It is made with the same vinyl binding as the original.
The Inside Carpet kit is 19 pieces for the 1972-1980 model years, and 17 pieces for all other years. It  comes complete with the original style heel pad sewn into the driver's side carpet. However, it does not include the original molded rubber insulating pads. You will need to glue your original rubber insulating mats under the new carpeting.
The Trunk Carpet kits are available for both U.S. and non-U.S. models. It is a 5-piece set for U.S. models, which  have the car battery in the trunk, so the carpet pieces are slightly different. It is a 6-piece set for non-U.S. models, which have the car battery in the engine compartment. Trunk Carpet kits come complete with pieces for the floor, side walls, front walls, and back wall of the trunk.
We offer a wide variety of colors in all sets. If you need a color that is not listed in our swatches, just ask!