Seat Covers
1997 thru 2000 Jaguar XK8 & XKR Convertible & Coupe Models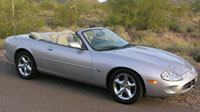 Factory style replacement Jaguar XK8 and XKR Seat Covers. Manufactured to factory specifications and workmanship. Fits both Left & Right hand drive models.
This set of replacement Seat Covers is hand crafted for the Jaguar XK8 & XKR models, and fits the 1997, 1998, 1999 and 2000 model years. These Seat Covers are made with Original Jaguar Euro Autolux Leather. These Seat Covers include a 3 year warranty against material defects & workmanship.
• Made with Original Jaguar Euro Autolux Leather.
• Made with Factory style plastic retainers.
• Factory style stitching all around.
• Seat inserts are Lined with high density foam rubber as Original.
• Customer Randy Murphy says: Over and over Vic at TopsOnline has been raved about from forum members and there's a good reason why, the leathers look and fit exactly like factory. SUPER high quality workmanship and materials. Thank you Randy!
Jaguar XK8 XKR Replacement Front Leather Seat Cover Options - 3 year warranty
Front seat covers fits both the Coupe & Convertible models. These are original style seat covers & will replace your existing seat covers (not slip-on type). Other colors can be ordered, please inquire.
• Front Covers kit includes, 2 front Cushion covers, 2 front Backrest covers, 1 front Arm rest Lid cover & additional Leather to recover cup holder.
• If you're not sure which color to order? e-mail us the 3 digit trim code located inside the driver side door plate and we will confirm the color for you.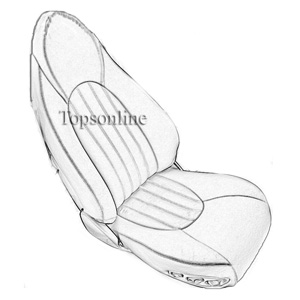 Click on any color swatch
to see a bigger version.
Front Covers
Kit
Ivory Color Jaguar Leather
$ 699.00 >>Add to Cart
Oatmeal Color Jaguar Leather
$ 699.00 >>Add to Cart
Cream Color Jaguar Leather
$ 699.00 >>Add to Cart
Cashmere Color Jaguar Leather
$ 699.00 >>Add to Cart
Coffee Color Jaguar Leather
$ 699.00 >>Add to Cart
Isis Blue Color Jaguar Leather
$ 699.00 >>Add to Cart
Savile Grey Color Jaguar Leather
$ 699.00 >>Add to Cart
Warm Charcoal (Black) Color Jaguar Leather
$ 699.00 >>Add to Cart