These are brand new high quality Soft Rubber replacement weather seals. Weather seal metal retainers that are attached to main frame are not included with the seals.
• Please pay attention to the years listed next to the parts description as some of the parts fit all years, some fit only early years and some fit only late years, choose accordingly.
• Fits Left & Right hand drive models.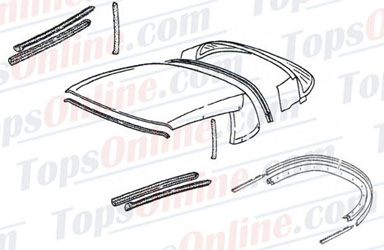 Click on any color swatch or picture below to see a bigger version.
Convertible Top
Weather Seals
1983 thru 1994 Front Roof To Windshield Post Seal

$ 32.00

Add to Cart »
1983 thru 1985 Outer Lateral Left Side Seal

$ 189.00

Add to Cart »
1983 thru 1985 Outer Lateral Right Side Seal

$ 189.00

Add to Cart »
1986 thru 1994 Outer Lateral Left Side Seal

$ 149.00

Add to Cart »
1986 thru 1994 Outer Lateral Right Side Seal

$ 149.00

Add to Cart »
1986 thru 1994 Inner Lateral Left Side Seal

$ 55.00

Add to Cart »
1986 thru 1994 Inner Lateral Right Side Seal

$ 55.00

Add to Cart »
1983 thru 1985 Vertical Left Side Seal

$ 199.00

Add to Cart »
1983 thru 1985 Vertical Right Side Seal

$ 219.00

Add to Cart »
1986 thru 1994 Vertical Left Side Seal

$ 219.00

Add to Cart »
1986 thru 1994 Vertical Right Side Seal

$ 219.00

Add to Cart »
1983 thru 1994 Rear Lower Roof To Body Middle Seal

$ 49.00

Add to Cart »
1983 thru 1994 Rear Lower Roof To Body Left Seal

$ 79.00

Add to Cart »
1983 thru 1994 Rear Lower Roof To Body Right Seal

$ 79.00

Add to Cart »