Convertible Tops & Accessories
1984 thru 1986 Mercury Capri & McLaren (ASC Conversion)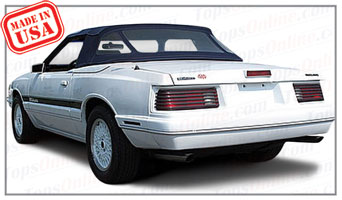 Factory style 1 piece Convertible Top cover with rear plastic windows. This Top cover will only fit cars that were converted by ASC (American Sunroof Corp.). Top cover fits both Left hand & Right hand drive models.
This convertible top for the Mercury Capri / McLaren fits the 1984, 1985 and 1986 model years.
• All the seams are heat-sealed from the outside, and stitched and heat-sealed from the inside. All convertible top materials are mildew & mold resistant, and UV treated for color fastness. The plastic windows are DOT rated heavy 40 gage vinyl; safe, durable plastic that enhances the quality of this convertible top. No sewing required.
EZ ON Brand Convertible Top with Plastic-Vinyl Window - 6 year warranty
Factory Convertible Top material for Black, Dk. Blue, Dk. Brown & Tan colors is the Stayfast Cloth, for White color is the White Pinpoint Vinyl. Other colors & materials can be ordered, please inquire.
• Top is made by EZ ON Auto Tops, EZ ON brand is used by professionals, and is known for quality workmanship & precision tailored craftsmanship. The convertible top you buy will be great fit for your car.
Click on any color swatch
to see a bigger version.
Convertible Top
With Window
Black Haartz Stayfast Cloth
$ 486.00 >>Add to Cart
Tan Haartz Stayfast Cloth
$ 486.00 >>Add to Cart
Dk. Blue Haartz Stayfast Cloth
$ 486.00 >>Add to Cart
Dk. Brown Haartz Stayfast Cloth
$ 486.00 >>Add to Cart
White Haartz Pinpoint Vinyl
$ 319.00 >>Add to Cart
Black Haartz Pinpoint Vinyl
$ 319.00 >>Add to Cart
Tan Haartz Pinpoint Vinyl
$ 319.00 >>Add to Cart
Dk. Blue Haartz Pinpoint Vinyl
$ 319.00 >>Add to Cart