Convertible Tops & Accessories
1996 thru 2002 Kia Sportage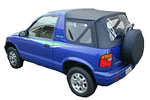 Factory style replacement Top cover, attaches with plastic pieces sewn on the Top as original. Includes the Top deck, Rear side windows & Rear center window. Rear side & Rear center windows has Zipper.
This convertible top for the Kia Sportage fits the 1996, 1997, 1998, 1999, 2000, 2001 and 2002 model years. Made by Acme Auto tops, Acme uses only premium Haartz convertible topping materials in the craftsmanship of these convertible tops. The plastic windows are DOT rated heavy 40 gage vinyl; safe, durable plastic that enhances the quality of this convertible top. This top includes a six year warranty against material defects & workmanship.
• All the seams are heat-sealed from the outside, and are stitched and heat-sealed from the inside, to ensure durability.
• The rear Plastic windows are heat-sealed onto the Vinyl.
• All convertible top materials are mildew & mold resistant, and are UV treated for color fastness.
• For even more UV protection, Sunguard thread is used on all convertible tops and windows.
Replacement Top Cover With Side & Rear Windows - 5 year warranty
Original Topping material is the Cabrio textured Vinyl.
• The Tint rating of the Charcoal window is 35%, which means, Charcoal Tint window lets in 65% of the outside light as suppose to 100% for Clear window. Charcoal Tint window is DOT rated and is legal in most states that allow Tinted windows on Cars.
Click on any color swatch
to see a bigger version.
With Clear
Windows
With Charcoal
Tint Windows
Black Cabrio Vinyl
$ 419.00 >>Buy
$ 429.00 >>Buy