For today's blog we are going to discuss an important element that every car needs: weather strips.  Old or damaged weather strips can wreak havoc on your interior, by letting water, air and debris creep in, so you'll want to make sure you know the in's and out's of how weather strips keep the right things inside your car and the wrong things out of it.  We'll go through our top questions about weather strips, starting with what they are.
What are weather strips?  Weather strips provide a barrier between the inside and outside at the seams of your vehicle to prevent water, air and debris from getting in an area of your vehicle that it shouldn't.  They fill gaps and seams and help separate parts, as well as provide a barrier of protection for noise reduction.  You'll find them mostly at the openings in your car like at the doors, windows, along a convertible top and at the trunk. Most weather seals are not seen unless you have these areas open, like a door ajar.
How are they different from weather seals?  The short answer is that they aren't any different.  Some people will call weather strips by the name weather seals, simply because they are "sealing" the inside the car from the outside elements.  The seals come in strips, so that is why they are called weather strips; some people will even refer to them as ""weather stripping".
How do I know I need to replace my weather stripping?   There are a few obvious signs that weather stripping needs replacing.  One, when water is getting in your vehicle when the windows are up and the doors are shut.  It can start with a little moisture or dampness and then escalate from there.  If you know water is getting in, you can use a water hose or spray bottle to help you identify pinpoint where the issue is.  Another sign that your weather stripping needs replacing is increased road and wind noise, meaning that the strips may not be making a tight enough seal to keep out the exterior air and noise.  Sometimes a visual inspection of your weather stripping will show cracks or holes, which is a clue they need replacing.  And last, you can press your finger against the weather stripping and if it doesn't feel cushiony and is not pliable to your touch, then it likely won't do it's job creating a tight seal and it should be replaced.
How are weather strips sold?  Weather strips are sold in one of two ways: 1) by kit and 2) individually.  Types of kits will vary and some will include more than others, so it's important to read through all the locations that are included in any kit you are looking at.  Specialty kits for convertible tops are also sold and can include the strips needed to weatherproof your convertible top where it meets your vehicle, like top frames seals and roof rail seals.  Some kits include the strips for doors and trunks, too.  Individual weather strips are available and sold for lots of different areas of your vehicle.  Popular weather strips that are sold individually include side rails, trunk seals and header bow seals.  You'll note that some strips are sold in pairs, like door frame seals and window post pillar seals since they come in pairs on your vehicle.  Weather stripping kits give you the best value, but if you are not needing to overhaul all of the weather strips on your vehicle, then purchasing them individually can save you some money.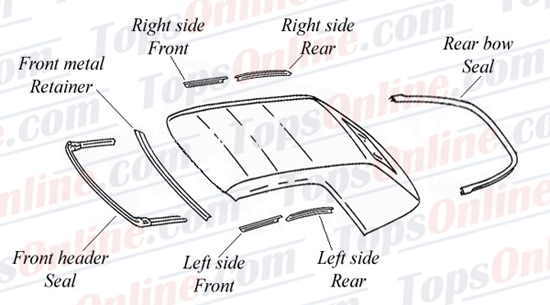 What should I look for when buying replacement weather stripping?  Purchasing quality weather strips is going to help preserve the integrity your vehicle and help prevent undue damage from the elements.  You'll want to look for weather strips that are guaranteed so you know the company stands behind their product and that is it well-made.  You'll also want strips that have a smooth look and feel; free from obvious flaws and inconsistencies in the strips.  Additionally, you'll want to ensure your replacement weather strips have proper 3D contouring and fitment for the area of the vehicle that they will go on, so you don't have gaps, inconsistent coverage and poorly aligned fitment details.  And last you'll want strips that have micro-closed cells, which help provide even compression for long-term durability and wear.  All of the weather strips carried by TopsOnline meet this quality criteria and carry a 15-year replacement warranty.

What supplies will I need to have when installing new weather strips?  When installing new weather strips, you'll need to ensure the old weather strips are completely taken off, including any adhesive residue that is leftover, which may require an adhesive remover. You'll often need to remove cosmetic facing and panels to get to the edges of weather strips and may need to remove screws holding those panels in place.  Some weather stripping will snap into place, but most will require new weatherstripping adhesive to bond it to the weather stripping channel or surface that it will go in. You'll want to make sure the application surface is clean and dry by using a mild cleaner and cloth, then you'll apply a very thin line of weatherstripping adhesive that you'll attach the new weather strips to, moving slowing and insuring it is applied firmly and in line.  Some experts recommend applying a very thin bead of adhesive to both the area needing adhesive and the strips themselves.  Then smear the adhesive along the area, letting it get slightly tacky before putting the two sides together.  The short answer for tools needed when installing weather strips are a screwdriver, adhesive remover, a mild cleaner, cloth and new weather stripping adhesive.
Do weather strips vary by make, model and year?  Weather strips do vary by the make, model and year and are made as factory-style replacements that will match up to the bends, screws, joints and channels that the original weather strips had.  While you can purchase generic, all-purpose weather stripping, you wouldn't want to do so unless you had a clunker that you were not keeping.  
How long should weather stripping last?  Weather strip longevity will depend on what quality strips are purchased.  Some generic stripping, not made for specific areas of your vehicle will not last as long as factory-original replacement weather strips made for your specific make, model and year.  The weather stripping sold by TopsOnline comes with a 15 year replacement warranty and should even last longer than that.
What are moulded weather seals?  Some weather strips will be designated as "moulded" and are commonly found for doors where they will contour and curve to create a tight seal along the door as it fits to the frame of your vehicle.  They are especially important for creating a complete and tight seal.
What are window gaskets?  Window gaskets seal the glass of your windshield to the body of the vehicle and are applicable to all vehicles.  
Is maintenance required for weather stripping?  Technically no maintenance is required.  However, for freezing cold weather some auto gurus recommend spraying your weather seals with silicone spray yearly so they don't have issues with water freezing around the weather stripping in your door during cold weather, freezing your door shut.  A little silicone spray will keep the water from freezing to your weather stripping, letting you get into your car during icy weather. For very hot and dry weather, auto experts recommend spraying your weather seals with rubber protectant so they don't dry and crack when the temperature heats up.
We hope this answers your questions about weather stripping.  Check out the weather strips and weather stripping kits available from TopsOnline.  If you still need an answer for a question you have, feel free to reach out to the TopsOnline Customer Support team.