The first thing you may think of when you hear TopsOnline may be convertible tops. However, as many of our customers have found, TopsOnline also carries several lines of high-quality seat covers, headliners, carpet kits and other interior parts.
One shopper in particular heard about TopsOnline from positive reviews on BenzWorld.org. He purchased a set of TopsOnline's seat covers that are made by our expert team in our very own manufacturing facility in sunny California. This customer, Ken Lee, is restoring his 1987 Mercedes 560SL and chose seats in Saffron leather with Brazil piping, to accent the interior. Ken is new to seat cover installation but not new to automotive restoration. After receiving the seats and installing them, Ken let us know how pleased he was with the seats he ordered, saying "Your leather is outstanding." We love to hear that from our customers.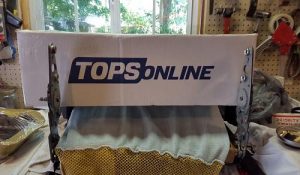 Ken is also an overachiever and worked up a video that he posted to YouTube. We took a look and think that Ken's "beyond his years" in experience level, so wanted to share some tips that came from his video. If you are replacing your seat covers, be sure to watch Ken's video. If you want a quick summary or synopsis, then enjoy these tips from Ken on how to complete a successful installation. Although this video and these tips are for a Mercedes 560SL, you'll find plenty of great tips for any make and model.
Top Tips from Ken on Installing New Seat Covers
Seats will pop out with bolts.

Two bolts in front and four in the back for this MB 560SL.

Label parts as you take them off.

 You'll have lots of parts out during this project and don't want confusion down the road.

Label and use two boxes to hold parts: one for right side parts and one for left side parts.

This will keep each side separated and speed up your installation. Also, he recommends that you work on one side at a time.

Heat stubborn bolts (thread lock screws) to remove them.

Remember they are hot when you go to touch them for removal.

Move to a workbench.

Once parts are out of the car, move to a space that gives you plenty of room to work and spread out.

Don't reroute cables, just pull them in.
Compare new seats with the old ones.

 This helps you get your bearings and match up installation points.

Grease or oil old parts before you put on the new leather.
Replace batting and use old seat covers as a template for holes.
Use interlining to allow the leather to slide over the foam or horsehair.  

The seats will feel better and last longer due to this step.

Triple check your measurements before making any cuts or holes.  

Yep, it is worth saying, as a reminder.

Under cut your holes or slits because the leather will stretch.
Don't pull too hard on seat straps because they can break.

 (As they did in Ken's install.)  If you do break a strap, you can repair it with upholstery thread and a hook needle.

Pull seats down to align the hooks with straps when re-installing.

Then insert the plastic clips that you saved (or use hogrings for other make/models).

Use a clean rawhide hammer to tap leather firmly into J-channels.
Use contact cement for any portions that need glue.
This is a great time to repaint any exposed metal parts that need a face-lift to match your beautiful seats.
When working with seat bottoms, use a bar clamp to hold the seat in place while tapping the leather in J-channels.

If using the

Ken Method

, this is a great time to take a break and enjoy the neighbor's garage band, sit by the fire and enjoy a drink.

You may need to order new nylon guides for the seats.

 Be sure to notice that some have a spacer and some are without.

Grease the track when installing.
If you find you need parts during the installation process you can pick them up at your local Mercedes dealership.

It will cost you more, but can keep your project going if you are in the middle of working on it.  Better prices are available online, but you have to wait for shipping.

Check that your seat adjustment rods are aligned on seat backs before getting too far into installation.

Ken Method Tip:

Play some great music to keep you going.

When installing nylon pieces, notice that sometimes they differ on the door side versus the interior (middle near console) of the seat.
Save rods to use on the new seats.

Ken Method Tip

: Take a break and enjoy nature. Bonus points if you have a waterfall near by.

Add new shoes for the seats and superglue them in place.
When installing the wider guide rails, be sure they face inward to the driver's inside.

Both rails are installed on the same side.

Seat adjustment rods are sometimes hard to re-thread, so use a magnetic pick-up tool to speed up the process.

Grab the rod with the magnetic end and thread it through the hole on the opposite side.

Put the seat back together again outside the car and then re-install the seat as a whole unit.
Use double-sided tape to keep any stubborn finish parts in place.
Cover seat leather when re-installing the seat unit to protect it from marks, snags, rips and holes.  

You'll thank Ken for this.

Leather is better than vinyl, so don't be afraid to make an investment for this project.  

Shameless plug from TopsOnline goes

here

.  :)

Don't forget to purchase matching covers for the arm rest.
Ken did an excellent job on his installation. Thanks for sharing it with us, Ken!  Here is the finished product: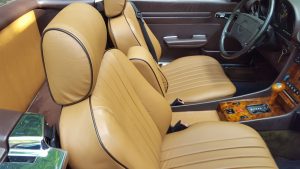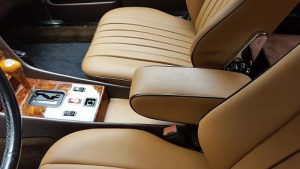 All in all, the project took him two days and he would estimate that you should allot 8 hours for each seat. He got done just in time to take it to a Mercedes-Benz Club of America (MBCA) autocross event for a challenging course gaining a respectable lap time.  (Ken's skills abound!)
In the market for seat covers?
TopsOnline carries several lines of top quality seat covers.  We offer our hand-stitched, highest quality Mercedes, Jaguar, Ferrari and Porsche seat covers on our website, and also carry several other makes (Ferrari, Porsche and S2000) that you can purchase by calling us directly at 1-888-803-8505.  We recently added a top line of Ford Mustang and Chevy Camaro seat covers and seat kits that can help you refinish the interior of your ride.  Shop online or call us today for the best seats in the industry.  We look forward to seeing your finished project!
Blog post by Rachel Miller, TopsOnline