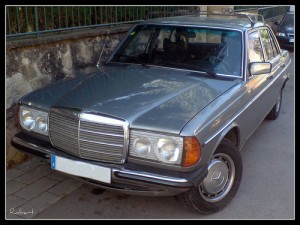 Photo credit: Flickr/.Robert.
In addition to our replacement Jaguar seat covers, we also have replacement seat covers available for Mercedes Benz models.
These hand-crafted replacement seat covers feature a factory style piping welt, factory style stitching, and the same high density foam rubber lining and seat padding material as the original seats.
We offer your choice of either the original Mercedes Benz leather or original MB-Tex Vinyl. The seat covers will fit both left-hand and right-hand drive models.
Each set of replacement seat covers includes a three-year warranty against material defects and workmanship. If you don't find the color that you need, just ask!
We currently offer replacement seat covers for the following Mercedes Benz models:
1972-1980 280S, 280SE, 300SD, 450SE and 450SEL (W116 Chassis) Note: these seat covers will not fit the 6.9 model.
1972-1979 280SL, 350SL and 450SL (W107 Chassis)
1972-1979 280SLC, 350SLC and 450SLC 2-Door Coupe (C107 Chassis)
1980-1982 280SLC, 380SLC, 450SLC and 500SLC 2-Door Coupe (C107 Chassis)
1980-1985 200, 200D, 230, 230E, 240D, 250, 280, 280E and 300D 4-Door Sedan (W123 Chassis)
1980-1985 230C, 230CE, 280C, 280CE and 300CD 2-Door Coupe (C123 Chassis)
1980-1985 280SL, 380SL, 450SL and 500SL (R107 Chassis)
1985-1989 300SL, 420SL, 500SL and 560SL (R107 Chassis)
1990-1995 300SL, 500SL, 600SL, SL280, SL500 and SL600 (R129 Chassis)
1996-1998 SL280, SL320, SL500 and SL600 (R129 Chassis)
1998-2002 SL280, SL320, SL500 and SL600 (R129 Chassis)
2000-2006 CL500 and CL600 (C215 Chassis)
2003-2008 SL350, SL500, SL550 and SL600 (R230 Chassis)