Shopping for Ford Mustang GT seat covers leaves you with lots of options and need-to-know details, so we've summarized them here for you to make shopping quicker and easier.  
Factory-Styled Workmanship and Materials
All of these seats are manufactured to factory specifications and workmanship, so you are guaranteed the quality that will match or exceed what you would get in the original vehicle. In fact, the upholstery for standard bucket and bench seats is an exact factory reproduction -- even down to the stitch count, giving you a product you can trust.
These seats are all available in factory-original colors, so you can be sure that your colors will match with ease.
What's New or Notable with These Products?
There are several notable features with the seat covers for these Ford Mustang GTs.
Vinyl Available - Originally, vinyl was not a factory option, but it is now available for these replacement seat covers for customers who like the look of leather without the larger investment for leather.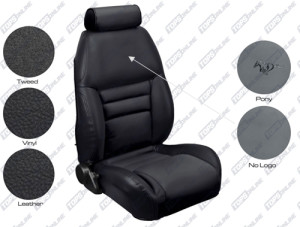 Pony Logo Embroidery Available - With each year range for GT models, we offer an option to purchase seats with the trademark Pony logo embroidered on the back of the seats. This can create a high-end signature Mustang style for your coupe or convertible.
Upgraded Piping for Longer Wear - All of the seats for the Mustang GT models listed offer superior quality piping with the manufacturer, TMI's, signature "Extruded Piping". This produces piping 23 times thicker than a vinyl-wrapped cord, so it never shows white-stringed cord — no matter how much wear it takes.
Interlude Tweed Available - This is another material that was not originally offered. Since the original cloth is not available, Interlude Tweed is offered as a very close match.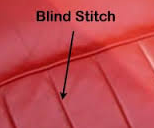 1997-1998 Seat Covers vs. 1998 Seat Cover - The 1998 Mustang GT seat cover comes in two versions to give you options. (Notice that it is listed twice in the product list above.)  The 1997-1998 version comes with split side bands and has headrests with welt seams on them.  The 1998 version has smooth one-piece side bands and headrests with a blind stitch on them. Here is an example of a blind stitch.
Necessary Items for 1994 thru 2004 Mustang GT Seat Replacement
Don't Forget New Seat Foam is Required!  If you're new to Mustang seat replacement, you might not know that Ford originally glued the seat upholstery to the seat foam when manufacturing the vehicle.  This means that when you remove the old seat material, you are guaranteed to pull up some of the seat foam since it was glued together. So, plan to purchase new seat foam for your project so you aren't delayed when you remove the old seat material and have to wait on new seat foam to arrive. TopsOnline offers seat foam in each of the new product listings mentioned above.
Be Sure You Have Hog Ring Pliers and Hog Rings On Hand.  These seats require the use of hog ring pliers and hog rings to properly install the seat covers, so be sure to have a set on hand. TopsOnline offers a hog ring plier kit on each of the new product listings mentioned above.
More New Products Coming!
We hope you like the new products we've added and look forward to working with more new customers as we expand our product offering.  Give us a call if you have questions and our expert staff is ready to help.  We can't wait to see the pictures of your new seats installed to add to our 'Stang wall of fame.