There are a lot of customization options when it comes to seat covers for your Ford Mustang Cobra and Mach 1, so here is a summary of your options to make shopping and finding your perfect seats even easier:
Here are a few details about each of these new seat covers:
All seat covers are made to factory (or better) OE standards. They are manufactured to factory specifications and workmanship, so you are guaranteed the quality that will match or exceed what you would get in the original vehicle. In fact, the upholstery is an exact factory reproduction — even down to the stitch count, giving you a product you can trust. Leather seats even come with a limited lifetime warranty.
Seat covers come with upgraded piping for longer wear. All of the seats for the Mustang GT models listed offer superior quality piping with the manufacturer, TMI Products', signature "Extruded Piping". This produces piping 23 times thicker than a vinyl-wrapped cord, so it never shows white-stringed cord — no matter how much wear it takes.
Choose options for Cobra emblem embroidery or Mach 1 accent color to customize your ride. For Cobra models, TopsOnline offers an option to purchase seats with the trademark Cobra logo embroidered on the back of the seats. The Mach 1 seats offer accent stripes for a distinctive look. These seat cover options can create a high-end signature Mustang style for your coupe or convertible.
2001 and 2003-2004 Ford Mustang Cobra Seat Covers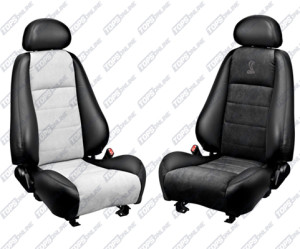 Cobra replacement seat covers will put your ride back in style. With OE leather and alcantara suede inserts you'll get a soft and luxury look. If you need a more affordable option, then we offer a unisuede insert which is a very close color match to the alcantara suede. Unisuede options are available paired with leather for a smaller budget or paired with vinyl for the most budget conscious. All of these Cobra seats feature corner-hugging side bolstering on the front bucket sets.
2003-2004 Ford Mustang Mach 1 Seat Covers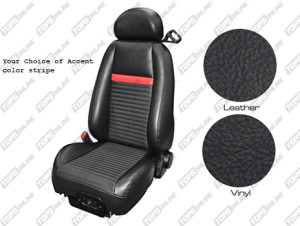 Ford Mustang Mach 1 seat covers are gorgeous seats, with a colored accent insert made from perforated leather. When you purchase seats, include your color choice for the inserts. Originally Ford offered in dark charcoal leather with medium graphic accents, so you will have additional options with these replacement seat covers. Accent color options are: dark charcoal, medium graphite, oxford white and medium parchment.
Upgrade Kits for 1994-2004 Ford Mustang V6 and GT Models
If you own a V6 or GT, you can use the Cobra or Mach 1 seats shown above for your vehicle, but you should purchase the front seat covers only, since the rear seat covers will not fit V6 and GT models. You will also need to purchase new seat foam in the Cobra or Mach 1 style to get the right fit for your vehicle. Don't forget to save your original headrest upholstery since the Cobra and Mach 1 headrest upholstery is too large to fit the smaller V6 and GT headrests.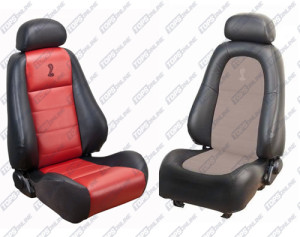 For V6 and GT owners looking for the Cobra styling, we offer an upgrade kit with seat covers that will work for your front seats, as well as the back seats. You will need to purchase new seat foam for the front seats to get the right fit. This upgrade kit will come with headrest upholstery that will fit your V6 or GT model since it's purposefully designed for owners looking to upgrade their seats on these models. Feel free to give our expert team a call if you have questions about fitting your V6 and GT with upgraded Cobra or Mach 1 seats.
The leather upgrade kits come with a leather seat surface, uni-suede insert and bolsters with a vinyl back and sides. The vinyl upgrade kits come with a vinyl seat surface, uni-suede insert and bolsters with a vinyl back and sides. All of these seat covers have the original-style side split bands.
Necessary Items for 2001 thru 2004 Mustang GT Seat Replacement
Don't Forget New Seat Foam is Required! If you're new to Mustang seat replacement, you might not know that Ford originally glued the seat upholstery to the seat foam when manufacturing the vehicle. This means that when you remove the old seat material, you are guaranteed to pull up some of the seat foam since it was glued together. So, plan to purchase new seat foam for your project so you aren't delayed when you remove the old seat material and have to wait on new seat foam to arrive. TopsOnline offers seat foam in each of the new product listings mentioned above.
Be Sure You Have Hog Ring Pliers and Hog Rings On Hand. These seats require the use of hog ring pliers and hog rings to properly install the seat covers, so be sure to have a set on hand. TopsOnline offers a hog ring plier kit on each of the new product listings mentioned above.
More Products on the Way!! The TopsOnline team is busy adding new products, so check back soon to see what else we have to keep your cars in top condition — inside and out!