TopsOnline offers high-quality replacement seat covers for Jaguars with a 100% fit guarantee.  Our line includes replacement seat covers for 1975 through 1988 Jaguar XJS models in two styles (perforated or plain inserts).  We also offer replacement seat covers for Jaguar models XKR and XK8, in both convertible and coupe. There are two seat cover styles available: for 1997 through 2000 models, and for 2001 through 2006.
All Jaguar seat covers are made with original Jaguar Euro Autolux genuine leather. They are replacement seat covers, not a slip-on cover. The seat covers are made with factory-style plastic retainers, factory-style stitching all around, and are lined with the same high-density foam rubber as original seat covers. TopsOnline carries the original leather colors made by Jaguar.  If you are not sure of the color used in your car, you can email the 3-digit Trim Code located inside the driver side door plate to our customer service team and we will let you know the official color needed for your replacement seats.
When ordering covers for a 2001-2006 model, there are four different styles of seat cover to choose from. You will want to be sure to match the style which is original to your car.
Style A:  This style has vertical pleats in the center panel of the seat.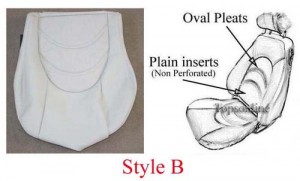 Style B: This style has oval pleats, and plain inserts in the center of the seat, without perforations.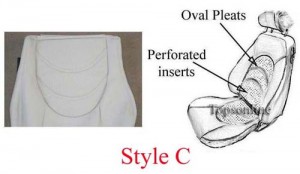 Style C: This style has oval pleats and perforated inserts.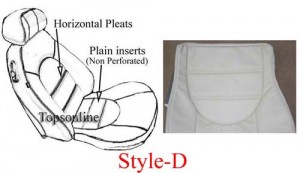 Style D: This style has horizontal pleats and plain inserts with no perforations.
In addition to the replacement seat covers offered for 1997 through 2006 models, TopsOnline also offers replacement leather for the door armrests and lid covers (both with cup holders and without cup holders).