If you are a Mercedes Benz aficionado, then you might be familiar with the term "MB-Tex", which is a vinyl based seat cover fabric used in many Mercedes Benz automobiles.  MB-Tex has a popular following -- and for good reason -- so in this article we will talk about what makes it great and how it compares to traditional leather interiors.
First, what is MB-Tex and how did it come about?  As mentioned, MB-Tex is a vinyl made specifically for Mercedes Benz (thus, the "MB").  But not your grandparents vinyl -- a high-quality and subple vinyl that can be installed in high-end vehicles without their owners batting an eye.  MB-Tex has the benefit of being easier to maintain than leather, which has to be treated with leather conditioner periodically (a couple times a year typically).  Most people like that MB-Tex vinyl doesn't stick to the skin or change temperature as much as leather. Plus, MB-Tex comes in the same colors as leather and several treatments, like a perforated style, which lends a customized look that people sometimes prefer.  It also has the dual benefits of being (1) cheaper than leather and (2) longer lasting than leather, which for some is enough to tip the scale in its favor.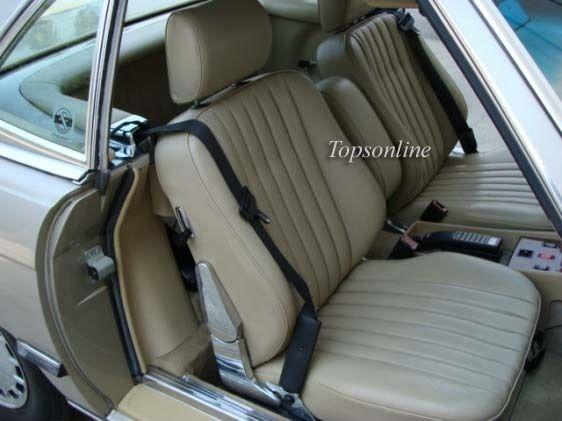 No matter what the selling points of MB-Tex are, some Mercedes owners are going to always choose leather.  It is synonymous with luxury vehicle interiors because of how great they look in a finished interior. Plus, leather interiors tend to hold a higher resale value, which is important for some owners that are going to pass along their Benz in a few years.  Modern leathers available can come in a variety of colors, textures and treatments, too, so you can get a customized look that suits the preference of each Mercedes owner. Generally leather seats are soft to the touch, yield a gentle earthy scent and when maintained well, can look great for years to come.  Leather owners should maintain their seats by keeping them clean and use a leather conditioner applied with a microfiber cloth several times per year, as needed.
In the end, choosing between MB-Tex and leather seats really comes down the owner's preference.  Both are great products with different benefits, so you should feel great knowing that you can't truly go wrong with whichever material you choose for your seat covers.  

TopsOnline specializes in high-quality factory-original replacement seat covers for dozens of Mercedes models and offers both MB-Tex vinyl and leather.  These new seat covers are made in-house by master craftsmen and come with a 100% fit guarantee and a five-year warranty. Shop our replacement seat covers today and get your Mercedes interior back to showroom quality.