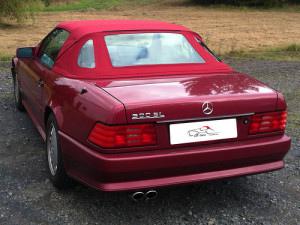 Image courtesy Flickr/ck-cabrio_creativelabs
The Mercedes chassis R129 includes the 1990-2002 300SL, 500SL, 600SL, SL320, SL500 & SL600 convertible models. These popular models featured seat covers made with Mercedes Benz leather, and we offer genuine replacement original Mercedes Benz leather in our replacement versions.
This model featured three different styles of seat covers that will depend on the year of your model. Here is a summary of their differences: 
Style 1: Fit 1990-1995 models and has plain trim with perforated middle inserts.
Style 2: Fit 1996-2002 models also has plain trim with perforated middle inserts, but the shaping of the stitching is slightly different compared to Style 1.
Style 3: Fit 1998-2002 models and has plain trim with plain middle inserts.
Our replacement Mercedes Benz seat covers are made to the original factory style specifications, with factory style stitching all around, and factory style plastic retainers. We offer the original factory colors, but we can make seats in other colors if requested.
Note: the backrest hard shell covers and the seat post covers are not included with these replacement Mercedes seat covers. You can reuse your existing seat back and seat post covers if they are in good condition, or purchase replacement ones if needed.