Perhaps you've been in a vehicle with the headliner coming down?  Or one where the headliner was torn or dirty? Not exactly the kind of experience you want your passengers to have, and if your classic car is in need of a headliner reboot, then here are the things that you need to know.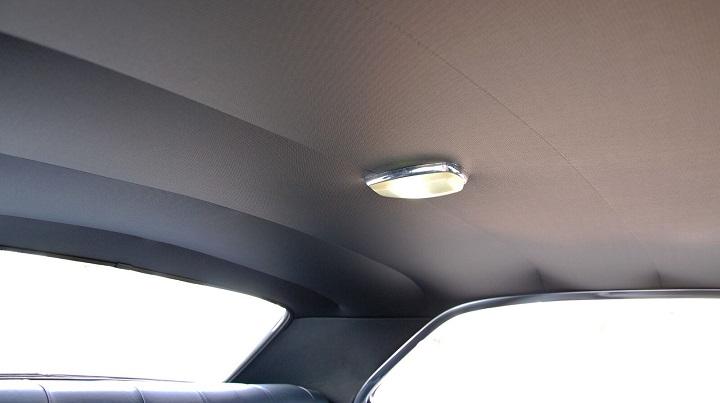 Shop for a Headliner Made For Your Vehicle
The headliner will cover the inside roof of the vehicle and is important for creating a complete interior look. Just like with seat covers, consoles and carpet kits, your best bet is to always shop for an automotive replacement part that is made for your exact vehicle.  Starting with the make, year, and model and all the way down to the trim and specs.
First, getting a replacement headliner for your exact vehicle is going to ensure a better and more proper fit, as well as a quicker installation.  If your vehicle has skylights or a different number of bows (headliner supports) a specific headliner made exactly for your car's year, make, model, trim, and specifications will accommodate these variations between models.  All of the replacement headliners sold by TopsOnline are made to the dimensions and specifications of each car for a precision installation that lines up with any bows, T-hangers or metal channels found on your vehicle.
Second, with a headliner for your specific model you'll find the new headliner will be available in a material to  match to your factory original materials. This doesn't mean that you're buying vinyl made in 1950, but means that you are getting an modern equivalent with the same colors and textures of the original.  This is very important with vehicle interiors, as they changed up between years and makes even within the same model. The Chevy Impala, for example, has at least 8 different roof textures from from 1958 through 1976, so matching on the year and model specs is important for a factory original replacement style.  TopsOnline offers the factory original material(s) for each model variation, so you can easily choose the right headliner for your vehicle.
Use Ready-to-Install Headliners for Best Results
Rather than purchasing material to recover your own headliner, you can speed up the process and ensure a professional looking result by purchasing a headliner that is ready to install, with no sewing necessary.  This will save your installer time, which saves you money. And if you are a DIYer, you don't have to worry about templates, measurements, cutting, sewing, gluing or aligning and can simply get started on the installation.  
This is especially important for models that have bow seams.  Bows are support wires that go across the roof of the vehicle and help keep the headliner in place.  The bow seams should be perfectly parallel and tailored so they don't pull or tug. Purchasing headliner material to recover your own headliner will create more work and risk as you measure and sew listing channels at each bow seam for your vehicle.
Plan to Replace Sun Visors and Sail Panels When Replacing Your Headliner
When you replace your headliner, you'll also want to replace the sun visors and any sail panels (if applicable) that are on your vehicle.  Sail panels are covers for the inside surfaces of the rear pillars in your vehicle and are not found on all vehicle models. They are made to match the headliner and depending on the edition of the vehicle will even vary by model year.  Sail panels and sun visors are typically covered with headliner material which matches the headliner of the car for a smooth, consistent look to the interior.
 Since you will have a new headliner, you'll want to update the sun visors and sail panels.  Inevitably through the years the material covering both of these portions will have faded and soiled, so without updating them, they would likely stand out against a new headliner.
 Headliners sold by TopsOnline come with a few options to ensure your sun visors and sail panels match your headliner.  First, when purchasing a headliner only, they automatically come with additional material for your to recover the sun visors and sail panels (if applicable) on your own.  This is great for someone with experience doing automotive upholstery, who can ensure a professional cutting and recovering of these surfaces. If that is not you, if your backboards are damaged or if you want to speed up your project, then you can purchase one of our headliner kits.  We have several kit options, which depend on whether your vehicle has sail panels or not. There are:


Headliner + Sail Panels

: Ready made sail panels on new backing board (and extra material for you to recover your sun visors)

Headliner + Sun Visors

: Visors are ready to install with your existing hardware

Headliner + Sail Panels + Sun Visors

: Ready made sail panels on new backing board and ready to install sun visors
Kits help you to finish your project quickly and give you professionally made sail panel and sun visor replacements with new backing boards.
Update Your Headliner Easily and Quickly
Overall, a headliner project is straightforward and an automotive upholstery shop will be able to take care of the project easily for you.  Check out our Installers page to find a reputable installer near you.  TopsOnline takes the stress out of the project by offering replacement headliners made to precise fitment for your vehicle.  They come ready to install and TopsOnline offers kits, so you can easily update sun visors and sail panels, which should be done at the same time as your headliner.  Check out our selection of headliners or contact our Customer Support team and we'll be happy to help you.