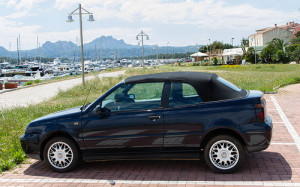 Image courtesy Flickr/Andreas Issleib
There are a lot of theories as to why Volkswagen named their subcompact car the "Golf." Known variously as the VW Rabbit convertible and just the VW cabrio convertible top in America, the Golf was first introduced in 1974.
Theory #1 is that the Golf is named after the German word for the Gulf Stream. This theory builds on the other wind-named Volkswagens that were launched around that time, including the Scirocco and the Passat (which is named after the German word for a trade wind).
Theory #2 is that the Golf convertible top was meant to convey a sporty attitude, similar to other sports-named cars of the day, the Polo and the Derby.
Alas, we will probably never know why VW chose the name Golf for their subcompact convertible top. When contacted over the years, VW executives have repeatedly refused to comment on the topic, or admit that there is – or was – any kind of naming scheme in place.
If you need a replacement VW cabrio convertible top, we offer them for Volkswagen models from the 1954 Beetle through to the New Beetle and VW Cabrio.