[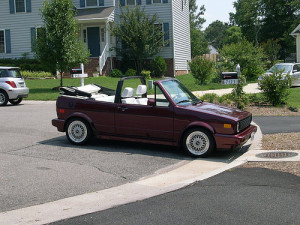 Image courtesy Flickr/mk1archive
Although the VW convertible top has returned, and has been present on cars throughout the years, many people still consider the VW Rabbit convertible top (known as the VW Golf convertible top in Europe) to be a classic icon of 80s style.
This blog post details the many times that a white VW Rabbit soft top appeared in 80s movies, from License to Drive to Nightmare on Elm Street 4. The VW convertible was a symbol of fun, carefree youth in the 80s. Small wonder it's still popular today.
If you need a replacement VW convertible top, we have options for all VW cabrio models in a variety of colors and fabrics to suit your needs.