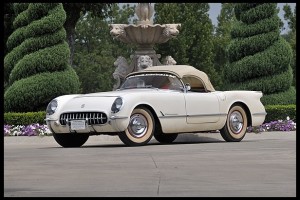 Image courtesy mecum.com
In 1954, eccentric business owner Richard Samson bought a Corvette convertible top roadster. Samson, who owned a string of 33 successful grocery stores in Maine, drove the car for four years - putting 2,331 miles on the odometer - before he ordered workmen to seal the Corvette inside a brick tomb. He left strict instructions in his will that the Corvette not be released until the year 2000, but just before he died, he recanted this decision.
In 1982 the building where the Corvette had been bricked in was purchased by a new owner, with the provision that the car be removed from the property by 1986. Samson's daughter was on hand to watch the removal of the famous "entombed" Corvette soft top roadster.
The roadster was in surprisingly good condition. Moisture had damaged the car's Polo White paint, but the tires still held air, and the convertible top itself was in good shape. The car has been on display in private hands ever since. It stands as the oldest unrestored Corvette with the least amount of miles on the odometer: the car still has the original 2,331 miles showing on the clock.
If you have recently unearthed a Corvette, whether literally or figuratively, and need a replacement Corvette convertible top, we carry them from model years 1953 onward in a variety of styles and colors to suit your needs.