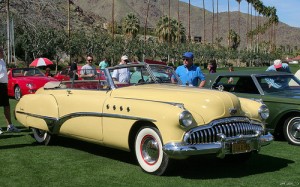 Image courtesy Flickr/Rex Grey
Buick actually produced the Roadmaster from 1936 to 1958, and revived the name from 1991 to 1996. But for most people, the Buick Roadmaster is a quintessentially 1950s car.
The first generation Roadmaster appeared in 1936-1937, with a brawny 320.2 cubic inch engine that put out a then-impressive 120 horsepower. It was a bargain, too: even the premium priced Buick Roadmaster convertible top 4-door model was priced at a mere $1,565, compared to its main competitor the Cadillac, with models priced between $2,475 and $7,850.
This combination of value and power became one of the Roadmaster's hallmarks throughout the years. Along with several styling cues which were pioneered on the Buick Roadmaster, including the Sweepspear (a chrome rub strip that arced gracefully from the car's nose to its rear wheel well) and VentiPorts, which were non-functional chrome-highlighted round portholes on each side of the car, above and behind the front wheels. They were meant to suggest the features of a fighter plane, and helped lend the car a suitably science fiction-y air for the futurist 1950s.
The Buick Roadmaster soft top was available off and on throughout its production run. The 1954-1956 Roadmaster convertible seems particularly suited for the era of poodle skirts, drive-in movies, and hanging out at the carhop on a Friday night.
If you are looking for a replacement Buick Roadmaster convertible top, you have come to the right place. We have professional grade replacement tops with a variety of options, both factory standard and more modern options (like plastic windows instead of glass). Click here to browse the Roadmaster replacement top options.