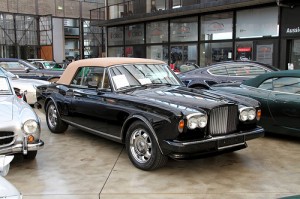 Image courtesy Flickr/Georg Schwalbach
The Bentley Corniche (which was renamed the Bentley Continental in 1984) was produced in conjunction with Rolls-Royce. It was available in two body styles: a 2-door coupe, and a 2-door Bentley convertible top. The Corniche featured a Rolls-Royce V8 engine, and underwent several styling changes over the course of the three generations of Bentley convertible tops available from 1976 through 1992.
The Bentley Corniche convertible was not a cheap car by any means. How much did it cost? Oh my dear, you would not really be so gauche as to ask, would you? *adjusts monocle*
Well, all right, then: you may be interested to know that a gorgeous 1975 Bentley Corniche convertible owned by Sir Elton John recently fetched about $95,000 at auction. Sir Elton spoke highly of the car, which he purchased new in 1975. It was one of the few cars that he drove regularly.
As befitting such a gorgeous and classic car, we offer tops that feature the same lined wool broadcloth window curtain and hand-rolled binding as the original Bentley Corniche and Bentley Continental and convertible tops.
The tops fit both left-hand and right-hand models, and they include long strips of topping in order to cover the beading and other trim areas, but they do NOT include the headliner. (You can re-use your existing headliner, if it is in good shape. If not, contact us to order a replacement headliner.)