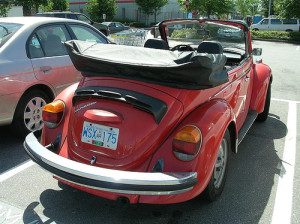 Image courtesy Flickr/Stephen Rees
Surely one of the least intended consequences, when Volkswagen revived the Beetle line in 1997, was the revitalization of the ages-old car game Punch Buggy. (Also known as Slug Bug to some.) Punch Buggy was in serious danger of dying out in the late 80s and early 90s, as the rolling stock of Volkswagen Beetles began to gradually decline.
Volkswagen ended production of the Beetle in America in the early 1970s. Where once the roads fairly teemed with Beetles (both hard top and soft top VW Beetles), the numbers started to dwindle. In the heyday of Punch Buggy, which was apparently invented sometime in the 60s, you probably couldn't go two blocks without the opportunity to punch your sibling in the shoulder.
By the mid 1990s, a lot of kids had probably never even seen a real VW Beetle in the flesh. I remember explaining the game to a young coworker, to his immense puzzlement.
Luckily, when the VW Beetle returned to the streets, it fanned the flames of sibling rivalry. Who knows what lengths we would have had to go to, if the VW Bug had been forever lost to history. (Anyone up for a rousing game of "Punch Civic" or "Punch Taurus"? I thought not.)
If your Punch Bug has been punched by the elements one too many times, we carry replacement VW convertible tops for Beetle soft tops both new and old model, as well as VW Rabbit and VW Golf convertible tops.