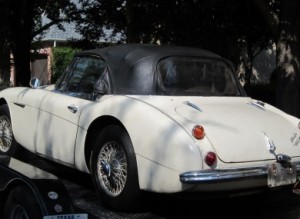 Image copyright AP News/Los Angeles County Sheriff's Department
In 1970, Robert Russell's prized 1967 Austin Healey convertible was stolen from his Philadelphia home. The theft's date was particularly memorable for Russell, as it happened the morning after he and his future wife went on their second date.
Russell mourned the loss of his Austin Healey soft top, and he never stopped looking for it. Periodically over the last 42 years he would check newspaper listings, and then – as the years went on – search Craigslist and eBay. Russell kept the car's VIN, the original key, and the car title as proof.
A few weeks ago, Russell spotted his Austin Healey for sale on eBay – in Beverly Hills. He phoned the dealership that was offering the car for sale, and contacted authorities to reactivate his original "stolen car" police report from 1970. This allowed the Los Angeles police to impound the car as stolen property, and return it to Russell.
Amazingly, the car is still in excellent shape, although the brakes apparently need some work. The car's soft top looks good in the picture provided by the LA Sheriff's Department (above), but Russell, if you need a replacement 1967 Austin Healey convertible top, we have what you need.