Here are some of the questions we received from customers this week - they may help you as you are searching for the right convertible top or seat covers for your vehicle, too!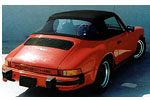 Question:  I would like to replace the convertible top for my 1984 Porsche 911.  Can I substitute a newer model year Porsche convertible top with glass window, in place of the original style top with plastic window?  Thanks, Steve.
Answer:  Great question Steve!  Unfortunately, there is no way to replace the 1984 Porsche 911 plastic window with a glass window; this is true for all of the earlier model Porsche 911, 912, 930, 964, Carrera 2 and Carrera 4's.  This is because the first Porsche convertible model that came with a glass window from the factory was the 2002 model Porsche 911/996 Carrera Cabriolet; this model has a re-usable glass window.  Based on this model, TopsOnline.com is able to offer a replacement glass window top for the 1999 through 2001 Porsche 911/996 Carrera models, which replaces the original style plastic window convertible top.  However, this type of replacement is not available for the 1984 model 911 convertible that you have.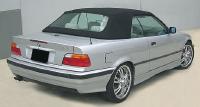 Question:  Do you carry the padding for the 1997 BMW E36 Convertible?  It is a piece that goes between the top and the headliner.  Thanks, William.
Answer:  Actually William, the BMW E36 convertible top does not have any padding between the top and the headliner.  Although some similar model years' European models - such as the Jaguar XJS, Mercedes CLK, and Audi A4 - did come with padding, the BMW E36 convertible did not come with padding.  This is good news - your top has one less part to buy when you decide to replace it!
Question:  I recently bought a top for my Peugeot 306 and I am very pleased with it.  I am interested in getting replacement seat covers for my Peugeot; when I checked your web site, I noticed that I was not able to select the Peugeot for replacement seat covers.  Can you help?  Thanks, Sharon.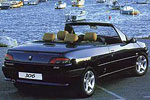 Answer:  Unfortunately, TopsOnline.com does not currently manufacture replacement seat covers for the Peugeot 306; we currently make replacement seat covers for the Jaguar XK8, Mercedes Benz W107 and R129 SL &; SLC models exclusively.  However, we will be adding more models in the near future, so please check back with us often.  We are glad to have another satisfied customer in you and want to earn your future business as well!
We hope that these questions and answers are helpful as you continue your journey to educate yourself about replacement convertible tops and seat covers.  If we can be of any assistance at any time, please let us know by sending us an email, or calling us at 888-803-8505.  Thank you!