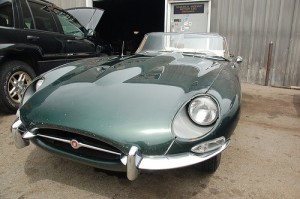 Image courtesy Flickr/Chris Devers
Perusing this list on the Time website brings a lot of chuckles. Most of the entries are what you would expect – the Yugo, the Pinto, the Gremlin. How can you not make fun of these cars? But another entry caught my eye: #23, the 1974 Jaguar XK-E V12.
I can see calling this car "somewhat less than 100% awesome." But does the 1974 Jaguar E-Typer really deserve to be on the same list as the Pontiac Aztek or the AMC Pacer?
The Time correspondent's main beef with the early 70s Jaguar XK-E convertible is that it is less attractive than its 1960s counterpart. Which, fair enough. But like a lot of ugly ducklings from the 1970s, the XK-E soft top is enjoying something of a resurgence in popularity.
What once seemed hideous now seems quaintly retro. People are going out of their way to restore their 74 Jaguar convertible tops! If you have one that needs a little love, check out our great selection of replacement fabrics and colors.