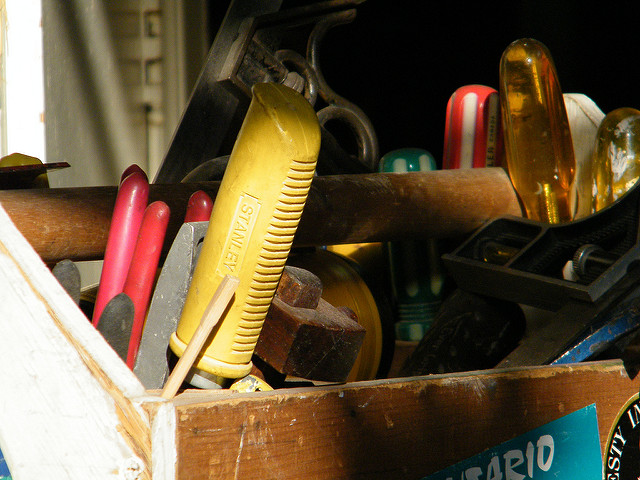 Image courtesy Flickr/Dylan Foley

When you are handy with a tool chest and have experience working with upholstery, some convertible owners choose to tackle a replacement convertible top installation in their own garage, rather than outsourcing to an automotive upholstery shop.  If that is you, then we want to give you the quick and dirty list of which tools to have on hand to get the job done right. Here goes:
Staple Gun

- The staple gun will be the tool you use to attach the material on the window to the body of the vehicle at the front and the back over the frame.  Ideally you would use an upholstery stapler, but any

pneumatic or heavy-duty st

apler that uses 18 to 20 gauge, 1/4 or 3/8 inch long staples will do the job.  A staple gun is

needed for 75% of convertible top installations, parti

cularly

most domestic cars and some Japanese and European models

.   




Contact Cement

- Even if staples are involved, 95% of convertible tops will also need contact cement to fix the material of the top to the frame.  Additionally, if staples aren't needed then you'll definitely need contact cement, which will serve the same purpose -- attaching the material of the replacement top to the frame of the convertible top.  It is also common to apply contact cement to the material in order to wrap it on the frame and then use the next tool to more permanently fix it into place.




Rivet Gun

- Rivet guns, also known as a pneumatic hammer, drive rivets into the frame and is another tool needed to secure the material and is specifically used to secure the weather seal and the material into the frame above the side windows.  Rivet guns are also used to attach the cables which allow the top to open and close smoothly, as well as lay flush against the vehicle.  Almost all models use rivets and if not, then small screws.  
In addition to these special tools, you'll also need the standard tools that you're tool box already has, including pliers, wrenches, a screwdriver and a prying tool.  
Once you have these and your replacement top on hand you will be ready to get started.  Check here for our tips on installation and also see what replacement convertible tops are available for purchase.