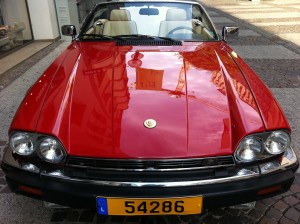 Last time we talked about how important it is for our customers to tell us what color they want to order. Today let's discuss the flip side: colors that closely match, and how can you tell between them?
One situation which recently came up was in regards to the replacement convertible top headliner for a Jaguar XJS. This top comes in either beige or light gray, and we also have two shades of tan (beige and antelope) available.
When you are replacing the entire convertible top, the specific shade may not matter as much. After all, the difference between antelope and beige is fairly slight. However, if you are replacing only one part of the convertible top – for example, just the headliner – you want to be sure that you are matching the original color.
Another factor is that the original color may have faded, or become somewhat dingy over time. What was once beige may have aged to more of a light gray, and vice versa.
If you are ever torn between which shade to order, or if you are not sure which shade will best match your car or your existing equipment, just ask! We can help you choose the right shade for your car, send more pictures, and even mail you a swatch of the actual material if necessary. We want to be sure that you get the right material for your project.