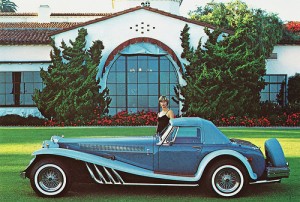 Image courtesy Flickr/aldenjewell
In Santa Barbara in the 1970s, a small team of independent auto makers conceived a unique idea: to build a car from the ground up with modern hardware, and classic styling. Taking their cues from the ground-breaking automobile designs of the 1930s, Clenet Coachworks built small-run productions of cars that looked old-fashioned, but ran on modern technology.
Sadly, the company ran into financial problems in 1980 and was forced to cease production. And thus, the ultimate irony: this intriguing car which was originally a mock classic has become a true classic. The Clenet Roadster soft top is highly collectible today.
The Series 1 Roadster Convertible was produced from 1977 to 1979. It featured a 1-piece convertible top with a plastic window. This beautiful car used hand-rolled binding on the top, and our replacement soft tops use the same. If you need a replacement Clenet Roadster convertible top, check out our selection.