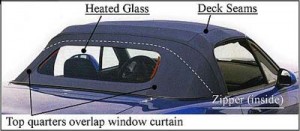 When shopping for a replacement Mazda Miata convertible top, one of the many options available is zippered versus no-zipper windows. The original factory style convertible top does not have a zipper. However, any Miata can have its top replaced with a zipper or no-zipper window, so there is no need to worry about fit.
What is the benefit to getting a zipper on your Mazda MX5 convertible top? It lets you unzip the back window and fold it down, for better air flow. This can be a great experience if you live in a very hot climate, because you get all of the air flow AND all of the shade. Some days are just too hot to have the top down, letting the sun beat down on you during your drive! But at the same time, it may be too hot to drive with all the windows up. Unzipping the back window gives you air flow through the car cabin to keep you cool.
Getting a zipper window convertible top for your Mazda Miata also lets you unzip the window and get air flow on rainy days. This gives you air flow, without getting you, your passengers, or your Miata's interior wet!
We have lots of options for replacement Miata MX5 convertible tops. Click here to check them all out!