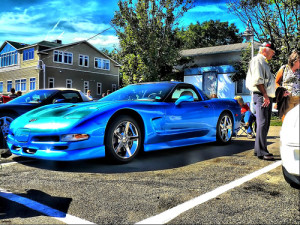 Image courtesy Flickr/redvette
The fifth generation Corvette C5 convertible was produced from 1997 through 2004. The C5 broke from Corvette traditions in many ways, not least in that it was the first Corvette convertible top to be designed as a soft top, instead of being a coupe with the roof replaced.
The frame design was also improved, which helped stiffen the car's handling and minimize the problems earlier Corvette convertible tops had experienced with annoying squeaking and rattling noises at speed.
On the performance side, the transmission was moved to the rear of the car, and the brand-new LS1 engine dropped in. The first generation LS1 produced an impressive 345 hp. Later versions of the engine cranked out a full 350 hp. The C5 Corvette also had impressively good gas mileage for its class (19/28 with manual transmission) thanks to the model's light weight and trim aerodynamic design.
If you need a replacement C5 Corvette convertible top, we have a wide variety of fabrics and colors to suit your needs.