[caption id="attachment_277" align="alignright" width="300" caption="Image courtesy Flickr/Diego3336"]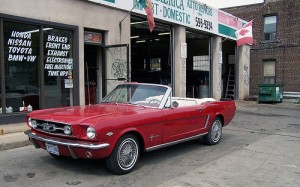 [/caption]
The Ford Mustang is one of the most popular convertible models with our customers who are buying replacement convertible tops. The Mustang is an iconic American car, and people who own a Mustang want to keep it – and keep it looking good – for as long as possible!
We have questions about Mustang top colors going in both directions. Our customers frequently ask "do you have the top in such-and-such color?" At the same time, we often receive orders in which the top's color has not been specified. When we have to stop the order process in order to ask a customer what color they want their top in, it adds a lot of time to the process. And we know that you want your replacement convertible top as soon as possible! (Especially with summer coming… some day!)
As with all of our other products, if we don't have the exact combination of color and top fabric that you're looking for, just ask! We can always special order items which we may not stock on a regular basis. And we love to help Ford Mustang owners keep their cars looking their best!
Model Year – Replacement Top Colors Available
1964-1966: Ford White, White, Bright White, Tan, Buckskin, Black
1967-1968: Ford White, White, Bright White, Tan, Buckskin, Black
1969-1970 Mustang & Shelby: Ford White, White, Bright White, Tan, Buckskin, Black
1971-1973: Ford White, White, Bright White, Tan, Buckskin, Black
1983-1990: Ford Oxford White, Dark Blue, Tan, Buckskin, Black
1984-1986 Mustang McLaren (ASC Conversion): Black, Tan, Dark Blue, Dark Brown, White
1987-1988 Mustang McLaren (ASC Conversion): Black, Tan, Dark Blue, Dark Brown, White
1989-1990 Mustang McLaren (ASC Conversion): Black, Tan, Dark Blue, Dark Brown, White
1991-1993: Black, Ford Oxford White, Dark Blue, Tan, Buckskin
1994-2004 Mustang & Cobra: Black, Bright White, Saddle, Parchment, Dark Beige, Medium Parchment
2005-2011 Mustang, GT, GT500, Shelby & Cobra: Black, Ford Camel, Parchment, Medium Light Stone, Bright White, Hot Rod Red, Burgundy, Medium Grey