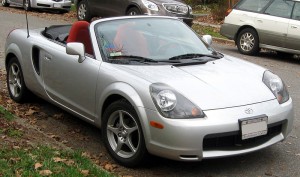 Image courtesy Wikimedia Commons/IFCAR
The Toyota MR2 went through three generations of body style, each one a sporty, fun, 2-seater coupe. Perhaps surprisingly, the original purpose of the MR2 was not to act as a sports car, but simply to be "a car which would be enjoyable to drive, yet still provide good fuel economy."
The MR2 has had something of a cult following ever since its earliest years in the mid 1970s. The third generation MR2, produced from 1999 through 2007 under the name MR2 Spyder in the United States, was the first to offer a true soft-top convertible top. (Previous model years had included a hardtop option.) This model, called the MR-S in Japan and the MR2 Roadster in Europe, was part of Toyota's "Project Genesis," an effort to appeal to a new, younger audience. The MR2 Spyder soft top proved to be a popular choice with consumers.
One of the breakthroughs offered by the MR2 (but not by its main competitors, the Mazda Miata and the Porsche Boxster) was a heated glass rear window in the convertible soft top option. This defroster rear window is set in the Toyota MR2 Spyder top fabric with a special sealant, and is heat-sealed for optimum bonding.
We offer a replacement Toyota MR2 Spyder convertible top in your choice of two fabrics: the EZ ON Brand top and the Robbins brand top. Both tops are professional grade, and include our standard six year warranty. Check out your replacement MR2 Spyder top options here!