Image courtesy Flickr/kenjonbro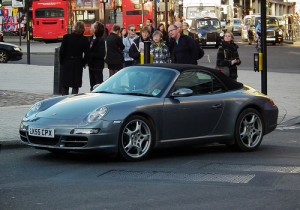 The Porsche 911 is one of the oldest sports cars currently being produced, and it's also one of the most distinctive and recognizable. To purists and enthusiasts, the 911 is the "real" Porsche, and all the other models (including the 944 and the Boxster) are just the company's side projects.
Both the 911 Carrera and the 911 Turbo are available in a convertible (Cabriolet) option, and have been since the model's earliest years and we offer replacement convertible tops for these models. And then you have the Targa model, which is a semi-convertible body style. (We offer the Targa skin only – you must re-cover the original Targa board.)
One element of the Porsche 911's lasting appeal has been its variety of price points. A reliable used Porsche 911 Carrera can be purchased starting around $40,000, which is a remarkably good price for such a high-demand, high-performance sports car. The price goes up from there, of course! A recent world record was set at auction when a 1974 Porsche 911 Carrera RSR Turbo went for $3.245 million.
Whether you need a replacement Porsche 911 convertible top, or a replacement Porsche Targa vinyl skin, we have you covered!