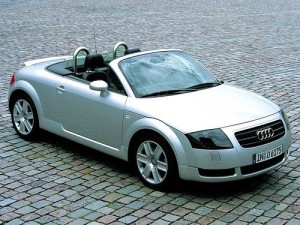 Image courtesy Flickr/chris_lori
Named in honor of a British race that traditionally the Audi's predecessor had excelled in (the Isle of Man Tourist Trophy or "TT"), the TT Roadster sported many innovative features, including seamless design thanks to a then-new method of welding with laser beams instead of welding torches.
The first generation Audi TT was built on the Volkswagen A4 platform. The second generation TT convertible is built on the Volkswagen A5 platform. It debuted an unusual solution to a weight balancing problem which had plagued the first generation Audi TT, causing a number of high-profile high-speed crashes on the Autobahn. To correct the unpredictable handling, second generation TTs have front body panels made of aluminum, and rear body panels made of steel.
This sleek, low-slung car features a lavish interior paired with a suspension tuned for a smooth ride. The Audi convertible top is perfect for both cruising around town and a high-speed charge down the highway.
If your Audi TT convertible top is ready to be replaced, we have you covered!