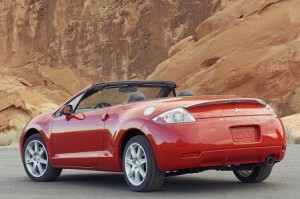 Image courtesy Flickr/azote
Q: I have a 2007 Mitsubishi Eclipse Spyder. Which cloth top should I get? With or without acoustical padding?
A: Road noise is always an issue with soft top convertible cars like the Mitsubishi Eclipse Spyder. For the 2006-2012 model years, Mitsubishi introduced a new soft top which, in addition to the heated defroster glass window, featured acoustical padding.
The factory original top with acoustical padding reduces road noise levels by 3 to 4 decibels. That might not seem like very much, but remember that decibels are a logarithmic scale, like the Richter scale. Each 1 decibel is 10 times louder than the one before. So a noise reduction of 3 dB is 30 times quieter than without the acoustical padding.
However, as nice as it is to have a quieter ride, the factory original acoustical padding tops are also somewhat expensive. In order to offer our customers a variety of cost-effective options, we offer a second choice: the same top, but without the acoustical padding. Currently the cost difference between these two tops is about $60.
Both tops are made out of Haartz Stayfast cloth (also known as Canvas & Mohair), and are made by EZ-ON brand auto tops. Whether you choose to buy it with or without the acoustical padding, rest assured you will be getting a top quality professional grade item, featuring quality workmanship and precision tailored craftsmanship.
Read more about the Mitsubishi Eclipse Spyder top and options on our site here!