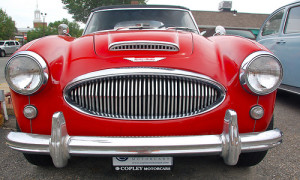 Image courtesy Flickr/Chris Devers
The Austin-Healey roadster is a classic British sports car from the 1950s and 1960s, with a sterling reputation and a loyal following.
The first of the "big three" Austin-Healey models rolled off the line in 1953, and its popularity remained high through the final model which left the historic Abingdon plant in 1967.
We offer replacement convertible tops for all Austin-Healey roadsters, including:
All of our tops fit both left-hand and right-hand drive models. If you have any questions, please contact us, we are happy to help you choose the right replacement top for your classic Austin-Healey roadster.