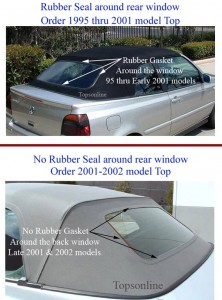 Q: I have a 2001 Volkswagen Golf convertible. How can I figure out which top I need to buy?
A: The VW Golf cabrio (sold as the VW Rabbit in the United States) came in two different styles of top. The first style was used on early models, 1995 through early 2001. The second style was used on later models, late 2001 and 2002.
Obviously if you have a "2001" VW cabrio, you want to be sure you are getting the right top for your car, since the style changed mid-year.
To determine which replacement convertible top to buy for your Volkswagen, look at the rear window. Does the window appear to be smoothly set inside the convertible top? Or is there a rubber gasket around the window?
Early VW Golf cabrio models used the rubber gasket. The second style on later models did not have a rubber gasket. The difference is illustrated in the image above - click the picture to see a larger version.
If you are still not sure which top you need to buy, please contact us and we will be happy to give you a hand.