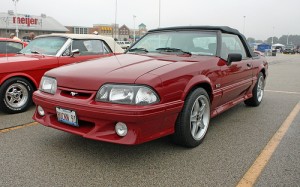 Image courtesy Flickr/myoldpostcards
Q: How do I choose the right replacement Ford Mustang convertible top?
A: When shopping for a Ford Mustang top, you have a lot of decisions to make! We offer many options and combinations for Ford Mustangs, which vary by the model year. (And even if we don't have a specific combination listed, please feel free to ask us. More likely than not, we can custom order it for you.)
The first choice to make is the color. Most people prefer to stick with the color that their original Mustang top came in, but we offer a lot of options. Maybe you have always wished you had a black top so that it wouldn't show dirt, or a tan top so that it matched your Mustang's interior. Most of our tops are available in at least five or six different colors.
The next choice is which replacement top parts you need to order. Most Ford Mustangs originally shipped with a 2-piece style convertible top. In the case of the 1991-1993 Mustang, we have four options: the entire top kit, the top with window, top only, or window only.
And finally, the fabric. We offer the original style fabric for all Mustang models, but we have other options too. In the example of the 1991-1993 Mustang, the original convertible top used Pinpoint Textured Vinyl. We offer that fabric, as well as Hartz Stayfast cloth (a.k.a. canvas and mohair).
As with all of our replacement convertible tops, if you don't see the options you want, please contact us! We always have a wide variety of custom options available.