The Mazda MX-5, otherwise known as the Miata in the US and the Eunos in Japan, is the best-selling convertible of all time.  With lots of Miatas on the market since 1989, there has been a lot of investment by convertible top manufacturers in making replacement convertible tops.  This means that there are a few things you need to understand when shopping for a new Miata convertible top, since you will have options!
(If you are overwhelmed at any time when shopping for a Miata top, feel free to "phone a friend" and call us at 888-803-8505 and we can get you to the right top for your needs ASAP.)
OEM Designs vs. Aftermarket Designs


First, let's talk about original manufacturer's style tops (OEM) vs. aftermarket style tops.  For 1989 through 1997 model years, the original style for a Mazda MX-5 top was a two piece look style with a zippered plastic window in Cabrio Textured Vinyl.  The two piece look top has top quarters that overlap on both sides of the window, making the window look like a separate section and with a zippered window curtain section you can remove it altogether.  This gives you the option to drive with the top up and the window section down. Plus, it allows you to replace the window section only if the window is damaged or discolored. This is the original style, but in the aftermarket they introduced a few new options, explained below.
One Piece Look Tops
With such a large market of customers, the aftermarket produced a new style of top that was able to pass along some cost savings and also simplify construction.  This new aftermarket design is a one piece look top, that does not have overlapping quarters around the window and instead is one continuous looking top, with the window laminated on top, without sections.  
The one piece top was so widely accepted that in the 2006 through 2018 factory original OEM designs are exclusively made with a one-piece look top.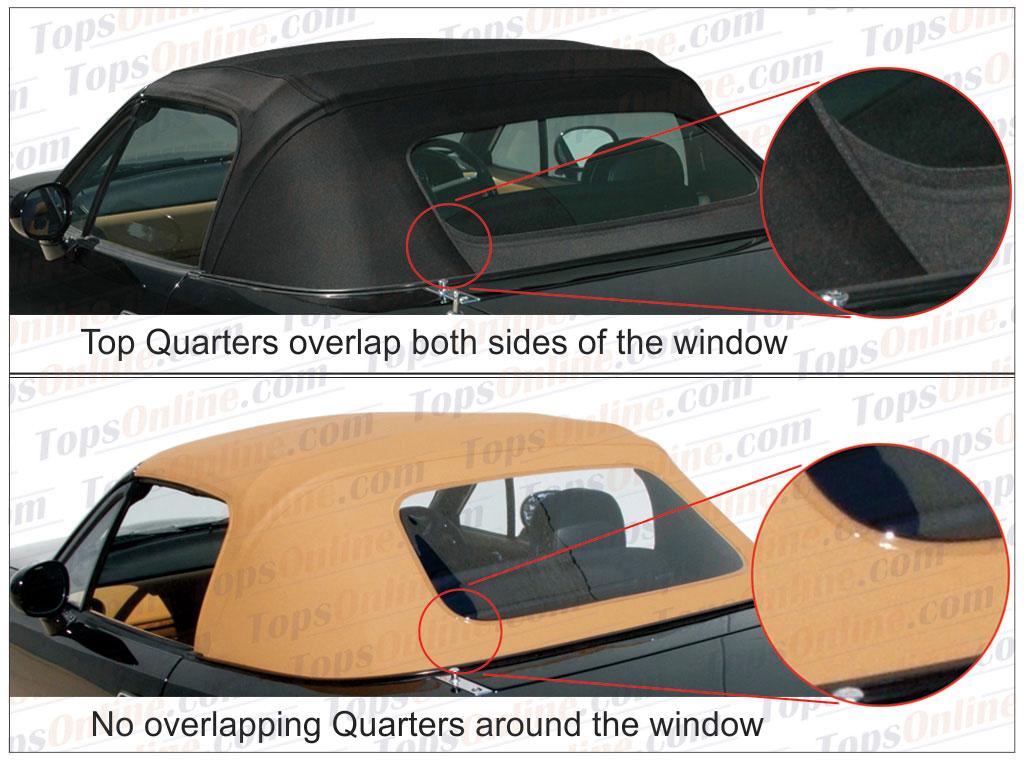 Zippers and No Zippers
With one piece and two piece tops for 1989 through 1997 Miatas you will have a choice of whether or not to have a zippered window curtain on your top.  The benefit of the zippered curtain is that you can lower the back window section while the rest of the top is still up. However, the benefit of the no-zipper tops is that they are easier to install and tend to last longer.
For model years 1998 through 2005 the factory original was a 2 piece look top with heater defroster glass and no zipper.  An aftermarket design offers a zippered window curtain in a two piece look top where the window can be lowered, but not removed altogether.  Because the window section can't be removed, you are not able to replace the window section only on this type of top. Zippered sections are not available for 2006-2015 and 2016-2018 model designs.  
Window Options
Window options are also available for the MX-5 Miata.  You will have options for the plastic and glass windows.  With glass windows you have one further choice: whether or not to have heated defroster glass.  Budget options start with plastic windows, with non-heated glass being a mid-range option and full feature heated, defroster glass being your premium option.
Original windows for 1989 through 1997 models came in plastic.  For 1998 through 2018 models, the original window was heated defroster glass.
OEM Materials and New Options
The factory original materials for Mazda MX-5 Miatas are Cabrio Textured Vinyl and Haartz Stayfast Cloth.  Cabrio Textured Vinyl is a two-ply composite vinyl that has an inner cotton lining covered by a special Miata outer grain.  Sometimes this grain is referred to as "pigskin" as another frame of reference. Haartz Stayfast Cloth is considered a slight upgrade and is popular with luxury brands like Mercedes, Porsche and BMW as a substitute for German canvases.  It has a three-ply design with an acrylic square weave outer fabric, a butyl rubber core, and a cotton lining. This composite gives is a richer look than vinyl and the butyl rubber core boosts its longevity.
The original material for 1989 through 1997 was Cabrio Textured Vinyl.  For 1998 through 2015, Cabrio Textured Vinyl was original on base models, but Haartz Stayfast Cloth was offered on Limited or special edition models.  For 2016 and newer models, the Haartz Stayfast Cloth was standard.
In the aftermarket, the Xtreme brand offers Sunfast Twill Cloth, a heavy weight three-ply composite material with a solution dyed outer polyester twill laminated on a 100% black polyester backing. This material gives you a mid-range cloth option that is priced between the Cabrio Textured Vinyl and Haartz Stayfast Cloth.
Brand & Budget Options
TopsOnline offers you several choices for manufacturers including our private label TopsOnline brand, Xtreme Auto Tops and Robbins Auto Tops.  The great news is that you can get a brand new replacement convertible top for your first and second generation Miata for as little as $150.  As you add options like original style, zippers, new rain rails, glass and heated defroster options, then your top will increase in price. You can get a top of the line top with all the bells and whistles for first generation Miatas for as little as $700.  
You can find all of these replacement convertible top options for your Miata at TopsOnline now.  Since there are so many options, if you would like to speak to one of our Customer Service specialists, we are more than happy to assist you.  Just call us at 888-803-8505 and let them know you would like a recommendation for a new Miata convertible top.