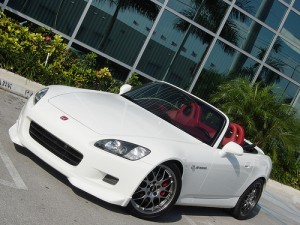 Image courtesy Flickr/tommy.chang
The S2000 soft top convertible was an incredibly popular car for Honda… until the recession killed it. Just chalk it up as one more item of collateral damage in our global credit crisis, because Honda axed the S2000 in 2009, after sales fell 75% from their peak in 2002.
Fans hope that Honda will revive the gorgeous and sleek S2000 roadster once things pick up. In the meantime there is a thriving market in second-hand S2000s, and no wonder. This sporty roadster offers power, high performance, and fun, all in a package with the Honda mark of reliability and design precision. Edmunds said it "promised a lot of fun for the serious driving enthusiast."
We have two options for your first generation (AP1, produced from 1999-2001) Honda S2000 replacement convertible top: the factory style original with a plastic window, and a non-factory style Honda S2000 soft top with a glass window. Both tops are made to our highest specifications, stitched and heat sealed to ensure durability, and available in a variety of colors.
For the second generation (AP2, produced 2002-2009) we offer a factory style Honda S2000 convertible top with a defroster (heated) glass window. We have the factory style top available from both EZ-On brand and Robbins brand, both of which are professional grade tops that are renowned for their quality workmanship and precision tailored craftsmanship.