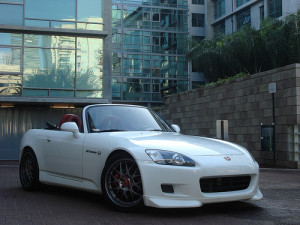 Image courtesy Flickr/tommy.chang
We have several options available for replacement 1999-2001 Honda S2000 convertible tops. In addition, each style of top is also available from your choice of two high-quality window bonding methods: EWP by EZ-On, and Permalok by Robbins.
The original factory style S2000 convertible top had a plastic window with a light green tint. Our first replacement soft top option uses this factory style configuration, with the same light green tint as original. The window is made with safe, durable, DOT-rated heavy 40-gauge vinyl.
We also offer a non-factory style top with a non-heated/non-defroster glass window, for Honda S2000 owners who want to upgrade their existing top. This top will only fit the 1999, 2000, and 2001 models, and it includes a special plastic-to-glass modification kit.
And finally, for Honda S2000 owners who want to go all the way, we offer a non-factory-style top with a heated/defroster glass window. If your Honda S2000 did not come from the factory with defroster wires, we have a kit available that can be installed so that your new defroster glass window works correctly.
All tops are manufactured to our exacting specifications, and are available in a wide range of colors and fabrics. If we don't have what you're looking for, just ask!