One of the great things about shopping with TopsOnline is all of the choices that you have for convertible tops.  However, for some, it can lead to a "paralysis of analysis" where you can't decide which of the many choices you should choose.  We've done an article on how to replace your convertible top on a budget, but this time we want to talk about the advantages you get when you invest in quality for your convertible top replacement.  
Quality can sometimes be an ambiguous description and it is often used freely in advertising.  We want to help you understand what quality means when it comes to your new convertible top from TopsOnline so you know the benefits you'll recieve when you purchase one of our convertible tops.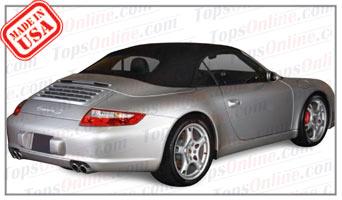 Material
First, let's talk about materials and what it looks like when you purchase a quality material for your new convertible top.  If quality is your aim, you'll want to look for a convertible top material that is made for convertible top use because it will need to withstand different treatment than materials used for other applications.  Quality convertible top materials will have:
UV Resistance

Flame Resistance

High Tensile Strength

Dimensional Stability

Abrasion Resistance

Durability

Aesthetic Design

Color Fastness
All of the convertible tops that TopsOnline carries are good to superior in each of these categories, so you can have comfort knowing that you won't purchase a new top which uses inferior materials when you shop with us.  Our product line does include tops that use premium materials that are better at achieving the quality markers above. Some of these premier convertible top materials include: Sonnendeck, which is also known as Twillfast II cloth, and A5 German Sonnenland cloth.
Convertible tops come in two predominant materials: vinyl and cloth.  Sometimes there is a misconception that vinyl is inferior to cloth, but in truth, they both have about the same durability.  They will have different looks and often customers will opt for the material that was original to the vehicle when offered.
Sometimes you can get to the right material choice for you by looking at your budget or by choosing to go with the same materials and options that were originally offered for your convertible top.  However, a quality top in quality materials will pay off by looking and performing great for years to come, allowing you to focus your time and money on other things.
Sound Proofing
As you know, road noise is often an issue with convertibles.  Clearly, when the top is down, that is to be expected -- but when the top is up, you still want to be able to listen to music or hold a conversation without shouting.  Therefore, sound proofing is often an issue that some convertible owners are concerned with.
For the best acoustic performance, you can invest in a convertible top with an extra layer of sound protection.  In recent years there are materials that are more acoustically enhanced, like A5 German Sonnenland, Haartz Twillfast RPC, and A5B German Sonnenland, so are a great choice if you are looking to boost the sound proofing for days that your top is up.  Also, these materials are great for modern cars, but they are often not compatible with classic cars.
Convertible Top Construction
Convertible tops go through a lot of extremes.  At times they will be taut and have friction, but other times they will be loose and folded.  Sometimes they will be dry and hot, while other times wet and/or cold. So, the construction of the top is important to keep the integrity of your vehicle and not allow air, moisture and debris to get in when your top is up.  Below are the things to look for in a quality convertible top to ensure that it will handle extremes, as well as protect the integrity of your interior.
Windows
The proper installation of a window is essential on a convertible top.  All of the tops offered by TopsOnline that come with pre-installed windows using best practices for a long-lasting mount that is waterproof at the edges and evenly installed.  You will want to look for a window that has a finished inner appearance with where the metal or plastic ring that holds the window in place on the material is then hidden when the convertible top headliner is re-installed.  Some convertible top brands, like EZ ON, will manufacturer their windows with plastic piping around the rear window and is not always a mark of low quality, but of preference.
You will also want to ensure that your convertible top has a window that carries a DOT safety rating to ensure that is made for automobile use and will be safe if an accident occurs.  Plastic windows should be 40 gage for safety.
All of the windows offered by TopsOnline are DOT safety rated and meet the quality standards above.
Seams
For seams, you will want to look for seams that are heat-sealed on the outside, and both stitched and heat-sealed from the inside.  This will give you durability and strength and the ever-important waterproofing element that is essential for a convertible top.
Testing
When choosing which products to offer TopsOnline has chosen manufacturers who undergo voluntary testing and certifications to ensure the quality standards are met.  There are even some models of convertibles that we do not carry tops for because we cannot guarantee that they meet our standards of quality. There are also some convertible top manufacturers that we don't work with because we cannot trust their materials or manufacturing process to meet our standards for quality.  As a result, you can trust the product line offered at TopsOnline to only offer products that have been tried and tested.
Why TopsOnline Does Not Sell Lower Quality Products
Before you are tempted to stress about quality, rest assured that TopsOnline does not offer a single product that we believe is inferior in quality.  All convertible tops that we sell are good to superior in quality and give you choices so you can find a new convertible top that will meet your budget and needs.  We have standards that we use when building our product offerings that will weed out any product that we feel does not meet a minimum threshold of quality. That is one of the assurances you can have when shopping with TopsOnline, knowing that we stand behind our products.  So much so that we can happily provide assurances like fit guarantees and warranties.
Shopping another site may put you at risk for convertible tops that may:
Lack heat and UV resistance

Lose shape and stability too quickly

Not fit properly for your specific model

Wear out quickly at stress and friction points

Lose window seal easily
All of these things can and should be avoided.  A quality top will look great for years to come and overall will save you money.
You Can't Go Wrong With Quality
When replacing your convertible top, the new top itself is generally only half of the total cost.  Investing in a quality top should mean that your top will look better longer, so you can save yourself a new replacement top and the labor involved for longer in the future.  
Check out the replacement convertible tops available for your specific vehicle.  If you have questions, our team is standing by to answer them.