Two convertible top parts which are sometimes easily confused are replacement boot covers and replacement convertible tonneau covers. Both of these parts are used when the convertible top is folded down (i.e. open) but they have very different functions.  Read below for a description of each.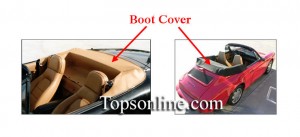 A boot cover (also sometimes called a "parade cover" or "top cover") covers the top opening. It gives the car a cleaner, tidier appearance, and can help prevent "crud" and road grime from working its way into the crevices, particularly if the top is down for an extended drive.  Boot covers give a very finished and clean look to a convertible when the top is down and are typically seen in older year American convertibles, like 1967-1969 Camaros, 1964-1966 Mustangs and 1962-1963 Pontiac Lemans, Templest and Beaumonts.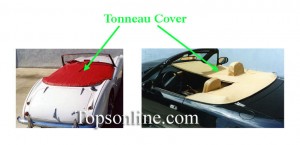 On convertible cars, the tonneau cover is deployed to cover up the back and/or passenger seat. (Not to be confused with the term "tonneau cover" for pickup trucks, which is the sheet that can be used to cover the truck bed. Or with the roll-out screen on some hatchbacks, which can be used to shield the contents of the trunk from view.)  Convertible tonneau covers are commonly found on two-seater convertibles, especially older model Europrean roadsters like 1953-1956 Austin Healeys, 1956-1960 MGA Roadsters, 1962-1963 MGBs and 1955-1957 Triumps.
A tonneau cover not only protects your upholstery from damage, it can also reduce the annoying buffeting effect from wind turbulence inside the cabin. Another benefit is that the tonneau cover helps the cabin retain heat, which can make driving in cold weather a more pleasant experience. Finally, tonneau covers can reduce drag, thus improving gas mileage.  When shopping for a tonneau cover that extends to cover the front passenger seat you will need to distinguish whether you have a left-hand or right-hand drive model.  
As you can see, boot covers and convertible tonneau covers are unique and serve different needs.  Both boot covers and convertible top tonneau covers both need attachments (like snaps) to secure each type of top to the vehicle.  Some models offer both boot covers and tonneau covers (like the 1956-1966 VW Karmann Ghia and the 1972-1975 Jensen Healey) while other models may only offer one type.  TopsOnline offers a wide selection of both boot covers and tonneau covers. Click into your convertible model to see which options are available for your vehicle.