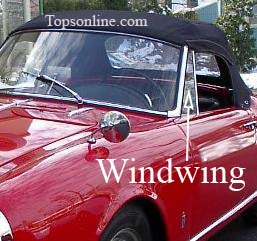 Location of the windwing on the 1959 long wheel base model Alfa Romeo Giulietta
Every car model has its own quirks when it comes to fitting a replacement convertible top, and the 1956-1959 Alfa Romeo Giuliettais no different.
The biggest issue we see with the 1956-1959 Giulietta is choosing the right top for your car's body length. These model years came in two bodylengths: short wheel base and long wheel base.
The 1959 long wheel base model can be distinguished by the windwing. This is a small triangular window which sits between the windshield and the side windows.
In other words, if you sit in the driver's seat and look at either of the outside rear view mirrors, you are looking through the windwing.
The 1956-1959 short wheel base models do not have a windwing on the door. You just have the windshield, the pillar, and then the side (door) window.
In either case, our replacement convertible tops fit both right-hand and left-hand drive vehicles.