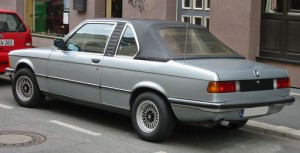 Image credit: Wikimedia Commons
The BMW E21 was the first generation of the "3-series" BMW. This was a more compact executive car, produced by BMW from 1975-1983. It took the place of the company's previous body style, the 2002, which many people felt was looking dated. The 3-series was also timely in that the gas crisis of the 1970s was in full swing, and the smaller cars offered much better gas mileage than their larger cousins.
This trim, two-door car was also produced in a cabrio by famed German luxury auto body manufacturer Baur. Baur began building BMW's convertibles in the 1930s, and also built the cabrio bodies for Porsche, Audi, Ford, and Mercedes-Benz.
We carry replacement convertible tops for the 1977-1991 model years, BMW Baur convertible 3-series models, the 318i, 320i, and 323i. These tops are sold in two sections, which means that you can replace the individual sections separately. If you need to replace the entire top, you will need to purchase both the rear window assembly section and the front material section. Our tops fit both right-hand and left-hand drive models.
Our tops are made with the factory material, German Cloth. We also offer the tops in Stayfast Cloth and in Twillfast Cloth, as less expensive alternatives. These alternatives are just as durable and long-lasting as the original German Cloth, they simply have a slightly different texture.