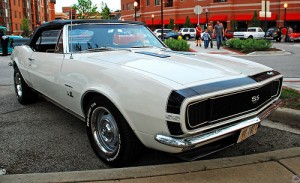 Photo credit: Flickr/Chad'sCapture
For a lot of people, the first generation Camaro is synonymous with the term "muscle car." This classic car debuted in 1966, with a brand-new platform that featured rear-wheel drive powered by either a six cylinder or a V8 engine.
The first generation Camaro came with a lot of possible options and configurations. The convertible versions had a two-piece top with a zipper plastic window. We offer three different options for replacement 1967-1969 Camaro convertible tops: with a zipper plastic window, with a no-zipper plastic window, or with a zipper glass window.
All three of the replacement convertible top versions that we offer will come standard with wire-on trim, and chrome ends to hide the staples. We also include an assembled front convertible top header seal. (This is not the same as the front rubber weather strip.)
Click here for more information, and to check out all the fabric and color combinations that we have available for the classic 1967-1969 Chevy Camaro convertible tops!