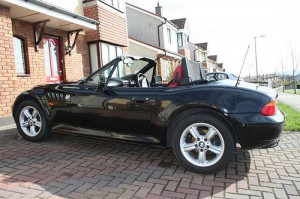 Image courtesy Flickr/jbwan
The BMW Z3 soft top roadster debuted with a splash: it hit dealerships soon after being featured as James Bond's car in the movie "GoldenEye." Later that year, a special James Bond Edition Z3 was featured in the (in)famous Niemen Marcus Christmas Catalog. BMW fans went wild for the Z3, which was built starting with the 3 series' E36 platform.
The BMW Z3 convertible top placed it in competition with two other popular sporty cars of the time: the Porsche Boxster and the Mazda Miata. All three cars deliver a remarkable bargain for what you get: some of the best sports convertibles on the road today.
Although some reviews criticized the initial Z3 as being "underpowered," later versions shipped with a broader range of engines, up to a powerful 3.2 liter 6 cylinder that produces 325 horsepower. The redesign in 2000 also changed the styling of the car's rear end, which some people found preferable to the original model, and others criticized for looking more bulky.
We sell replacement convertible tops for the Z3 model years 1996-2002 inclusive. All of our tops include the factory style plastic vinyl window with a very light green tint, no zipper, and factory style piping. We offer a variety of different fabrics for your replacement Z3 soft top.